Helitanker Assists Suppression Efforts on the Fern Lake Fire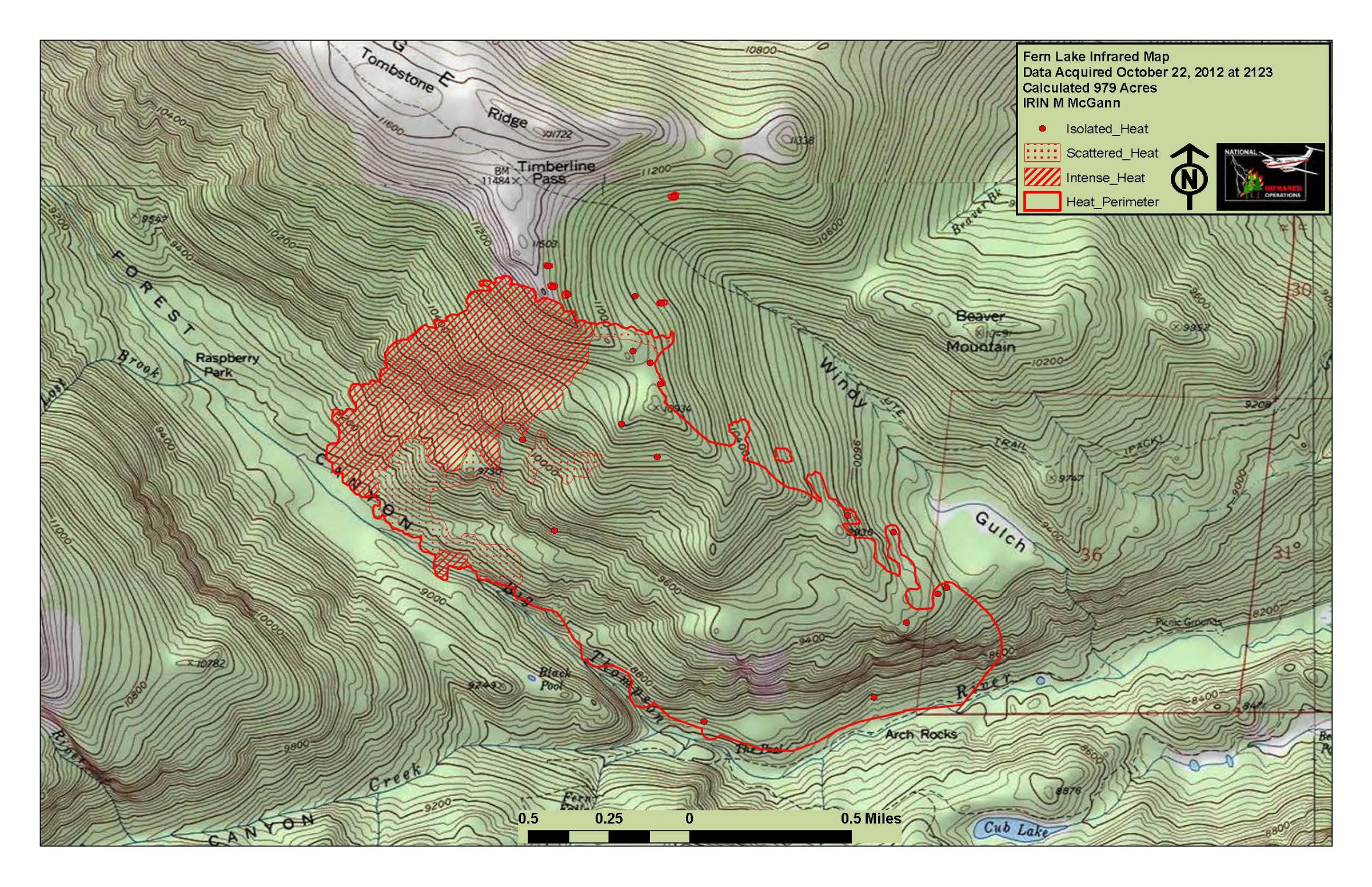 News Release Date:
October 23, 2012
Contact: Patricia Bean, 970-586-1363
Helitanker Assists Suppression Efforts on the Fern Lake Fire
 Estes Park, CO –The past several days of strong, gusty winds have caused an increase in fire activity on the Fern Lake Fire. In anticipation of predicted warm and windier weather today, fire managers have ordered a heavy helicopter to assist with suppression efforts.A Type I helitanker arrived at the Loveland Airport late Monday and is expected to begin water drops on the fire as needed Tuesday morning, if weather conditions allow.
 Firefighter's goal is to keep the fire within its current perimeter prior to the anticipated weather change on Wednesday. The Type I helitanker carries 1000 gallons of water at high altitude and was ordered in addition to the smaller helicopter currently being used for reconnaissance.
 Last night an infrared flight mapped the size of the fire at 979 acres and with 30 % contained. The highest intensity of heat was recorded on the west side of the fire, leading into Forest Canyon. Over the past three days the fire has moved through scattered dense stands of live trees towards the center of the park resulting in more smoke in the area than seen in the previous week. During the same period an additional 250 acres have burned.
 Firefighters are closely watching fire behavior and weather are prepared to take quick action to ensure firefighter and visitor safety and to keep the fire within park boundaries. The fire is burning in steep, rugged terrain with beetle killed trees making it too dangerous for firefighters to conduct a direct attack.
 The Moraine Park Campground is open. A reduced area closure is still in effect. This closure will be in effect for the duration of the Fern Lake Fire. Please obey all closure notices. Violating the terms of these fire restrictions is subject to criminal prosecution. Cub Lake Trail, Fern Lake Trail, and Fern Lake access road (beyond the winter parking) are closed. All access to the Ute Trail is closed, including from Upper Beaver Meadows. Lower Odessa Gorge (north of Odessa Lake) is closed to all use. You will not be able to hike north of Odessa Lake. Other trails leading into the fire area are closed and are posted. 
The cause of the fire is still under investigation. Additional information about this fire can be found at 
                                                             --NPS--
Last updated: February 24, 2015