Fern Lake Fire Receives Additional Snow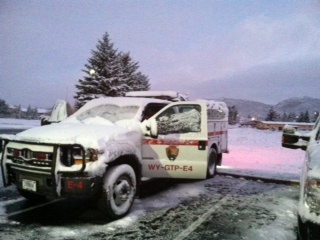 News Release Date:
October 26, 2012
Contact: Patricia Bean, 970-586-1363
Estes Park, CO - The Fern Lake Fire received an additional 1 to 2 inches of new snow overnight. The fire is still smoldering and creeping in areas protected from the weather,such as undertree canopiesand near large rocks. Yesterday afternoon firefighters noted small amounts of smoke from the northeastern edge of the fire. The fire's size is holding at 1030 acres.
 The forecast for the area is for clearing tonight, followed by a dry, windy period over the weekend with up to 40 mph gusts tomorrow. A high pressure system is expected to move into the area by mid-week bringing warmer and drier conditions. Fire managers expect to continue active monitoring, suppression as needed, and mop-up as conditions dry.  
The recent snows have decreased fire activity sufficiently to allow the demobilization of some resources including the light helicopter. Additional resources will be ordered should fire activity increase significantly.
 Once again, safety concerns created by the recent snowfall and slick conditions will keep firefighters off the active fire. Today's activities will include scenario training to help prepare for next week's fire potential.
 The Moraine Park Campground is open. A reduced area closure is still in effect. This closure will be in effect for the duration of the Fern Lake Fire. Please obey all closure notices. Violating the terms of these fire restrictions is subject to criminal prosecution. Cub Lake Trail, Fern Lake Trail, and Fern Lake access road (beyond the winter parking) are closed. All access to the Ute Trail is closed, including from Upper Beaver Meadows. Lower Odessa Gorge (north of Odessa Lake) is closed to all use. You will not be able to hike north of Odessa Lake. Other trails leading into the fire area are closed and are posted.

The cause of the fire is still under investigation. Additional information about this fire can be found at www.inciweb.org, or by calling (970) 586-1381. This will be the last press release unless conditions change.
--NPS--
Last updated: February 24, 2015