Pink & Red Wildflowers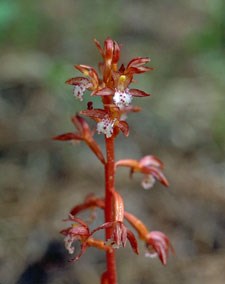 Spotted Coralroot
Scientific name: Corallorhiza maculata
Family: Orchid family (Orchidaceae)
Habitat: Montane and lower subalpine forests
Lacking chlorophyll, spotted coralroots are unable to photosynthesize. The roots form relationships with soil fungi to obtain nutrients from underground plant material. The flowers are reddish brown with a white lip spotted with magenta. Spotted coralroot blooms from mid June to early August.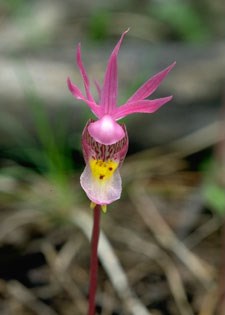 Fairyslipper
Scientific name: Calypso bulbosa
Family: Orchid family (Orchidaceae)
Habitat: Moist montane coniferous forests
Each stem bears a single slipper shaped flower. The petals and petal-like sepals are bright rose-purple; one petal forms a saclike lip, which is whitish with purple stripes and a bright yellow patch . This rare plant blooms in late spring.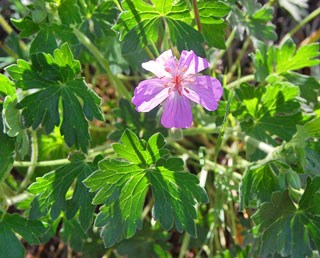 Fremont Geranium
Scientific name: Geranium caespitosum
Family: Geranium family (Geraniaceae)
Habitat: Dry montane forests and meadows
The petals are pink to lavender with dark purple veins. The veins serve as "runway lights" to direct pollinating insects to the center of the flower. The petals and sepals can be sticky. This common geranium may be seen from mid May to late August.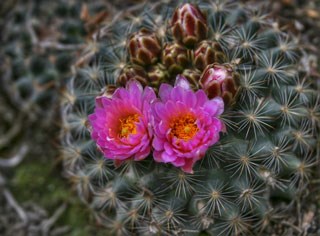 Mountain Ball Cactus
Scientific name: Pediocactus simpsonii var. minor
Family: Cactus family (Cactaceae)
Habitat: Dry montane slopes
This pincushion shaped cactus is covered with spirally arranged bumps that bear rigid spines. One to several brilliant rose purple flowers bloom in the center of the cactus. Mountain ball cactus may bloom from mid April to mid June.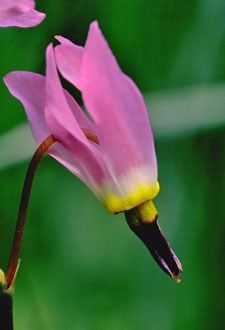 Shooting Star
Scientific name: Dodecatheon pulchellum
Family: Primrose family (Primulaceae)
Habitat: Wet areas from montane to alpine .
The bright pink to lavender flowers have backward folded petals and black anthers that form a protruding cone. Since there is no landing platform for insects, a bee must cling to the cone and flap its wings causing pollen to shower the bee. Shooting stars bloom in early June at lower elevations through late July in higher sites.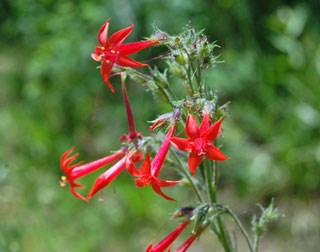 Western Scarlet Gilia
Scientific name: Ipomopsis aggregata ssp aggregata
Family: Phlox family (Polemoniaceae)
Habitat: Dry open montane slopes
The trumpet shaped flowers have scarlet to salmon colored petals. Each stalk will have several to many flowers in loose, elongated clusters. Look for this flower between mid June and late August near the park's east and west entrances.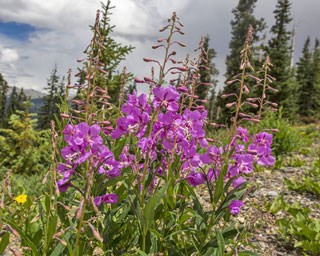 Common Fireweed
Scientific name: Chamerion danielsii
Family: Evening-primrose family (Onagraceae)
Habitat: Montane and subalpine woods, meadows, and disturbed and burned areas
Fireweed blooms from July to September with bright pink flowers. The flowers have four petals and are arranged in an elongated raceme. The plant can grow to 4 ft. in height. Fireweed gets its name not from its firey color, but because it is one of the first plants to colonize after a wildfire.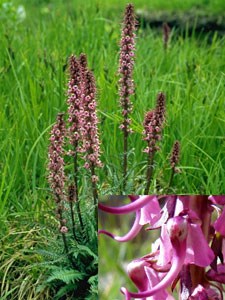 Elephantella
Scientific name: Pedicularis groenlandica
Family: Snapdragon family (Scrophulariaceae)
Habitat: Wet, marshy areas from montane to alpine
Elephantella forms masses of bright pink color in wet areas from June to mid-August. Each flower resembles a miniature elephant head with two ear flaps and an upturned trunk. When an insect lands on the trunk, a spring like mechanism causes the stamens to shoot out and slap the insect with pollen.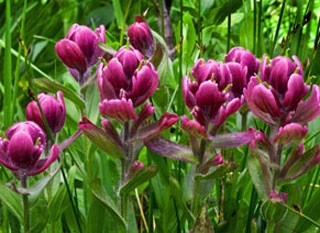 Rosy Paintbrush
Scientific name: Castilleja rhexifolia
Family: Snapdragon family (Scrophulariaceae)
Habitat: Moist meadows, subalpine to tree line
Modified leaves, called bracts are bright pink to rose-purple and hide the true flowers. The true flowers are inconspicuous green tubes within the colorful bracts. Rosy paintbrush will hybridize with yellow paintbrush to give a palette of colors ranging from pale pink to salmon to coral.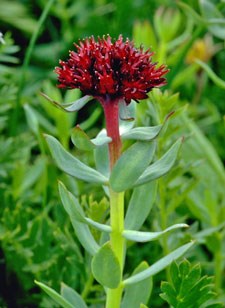 King's Crown
Scientific name
:
Tolmachevia integrifolia
Family: Stonecrop family (Crassulaceae)
Habitat: Wet subalpine to alpine slopes, occasionally dry slopes.
King's crown can be found blooming from early July to mid-August. The deep red flowers form a dome shaped cluster at the top of each stem. Like other stonecrops, the leaves are succulent.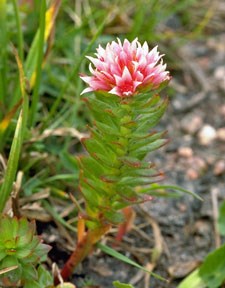 Queen's Crown
Scientific name: Clementsia rhodantha
Family: Stonecrop family (Crassulaceae)
Habitat: Wet meadows and willow bogs in subalpine to alpine.
Also known as rose crown, rose crown has pale pink to deep rose-red flowers which grow in a conical cluster at the top of each stem. It blooms from June to August and can reach a height of 3-11 in. (5-30 cm.). In fall, the succulent leaves turn a brilliant shade of orange red.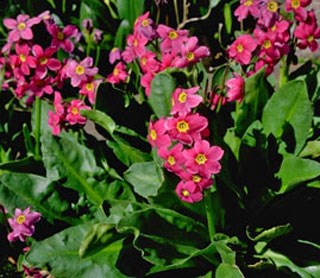 Parry Primrose
Scientific name: Primula parryi
Family: Primrose family (Primulaceae)
Habitat: Wet, rocky subalpine to alpine slopes and streamsides.
The flowers are bright pink with five petals that surround a yellow eye. The plant can reach a height of 3-15in. (10-40cm.). The leaves can reach a length of 2-11in. (5-30cm.). The flowers bloom soon after the snow melts in wet areas. Charles Parry was an early Colorado plant collector who named Grays Peak (one of Colorado's 14,000' peaks) for botanist Asa Gray. Gray in turn named this flower for Parry.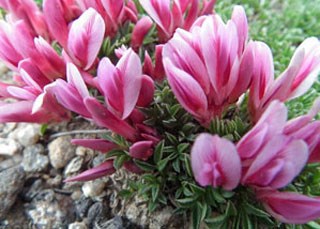 Dwarf Clover
Scientific name: Trifolium nanum
Family: Pea family (Fabaceae)
Habitat: Alpine summits, fell fields and dry meadows
The leaves are bright green and form dense, cushion-like mats. Tiny flowers are red-purple to yellow-white with dark purple tips. This tiny perennial plant grows very slowly – a plant the size of a small dinner plate may be 30 – 50 years old or older.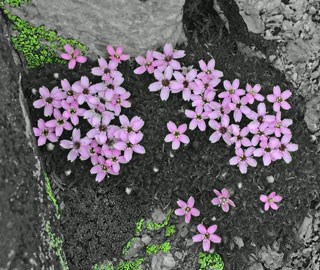 Moss Campion
Scientific name:
Silene acaulis ssp subacaulescens
Family: Pink family (
Caryophyllaceae
)
Habitat: dry alpine sites
This small cushion plant resembles moss and is made up of tightly packed leaves dotted with pale pink to bright rose-colored flowers. It grows to a height of only 2"-3" ( 5-7cm), and may have a taproot 4' – 5' (120-132cm) long. Commonly seen along Trail Ridge Road, moss campion blooms from mid-June to August.
References
Beidleman, Linda H., Richard G. Beidleman, Beatrice E. Willard, and Ruth Ashton Nelson. Plants of Rocky Mountain National Park: A Complete Revision of Ruth Ashton Nelson's Popular Manual. Helena, MT: Rocky Mountain Nature Association & Falcon Pub., 2000. Print.
Kershaw, Linda, A. MacKinnon, and Jim Pojar. Plants of the Rocky Mountains. Edmonton: Lone Pine Pub., 1998. Print.
Last updated: February 24, 2015