Forest Health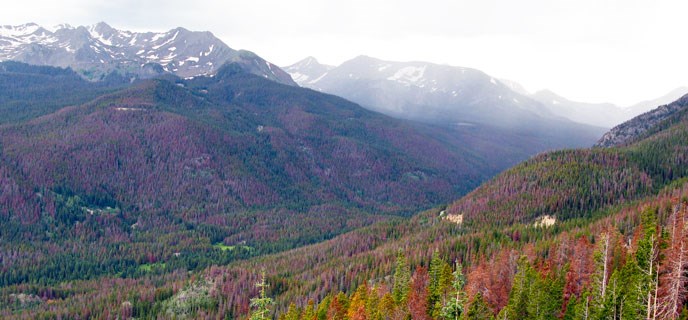 Forest health describes the condition and diversity of trees and other vegetation, as well as the status of important forest processes like nutrient cycling. Healthy forests provide suitable habitat for native animals and plants, purify air and water, and help regulate the climate. Forests also provide valuable recreational opportunities and important natural resources for fuel, lumber, and paper.
Monitoring forest health in Rocky Mountain National Park helps resource managers understand the overall condition of the forests, including the prevalence of forest pests and diseases, as well as the impact of air pollution and other stresses.
Forest Ecology



Every living and non-living thing
is connected in these woodlands.
Coming Soon

Mountain Pine Beetle

These little critters have coexisted
with Rocky Mountain pine trees
for thousands of years.

Spruce Beetle



The spruce beetle may be
the next big beetle outbreak in
the western U.S. Coming Soon


See the USFS

2014 Colorado Spruce Beetle Map


Parkwide Efforts

The park finds creative ways to
make use of the pine beetle
epidemic.
Wildland Fire Ecology

Nearly 60 percent of the park is
forested. The vitality of these
green areas depends on fire.
Forest Health Resources

Agency sources keep you up
to date on the latest forest
information.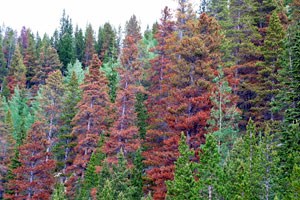 The Mountain Pine Beetle
Why are there so many brown trees? The Mountain Pine Beetle is one of several common, native insects that challenge western pine forests. Drought conditions, mild winters, dwarf mistletoe infestations, dense late seral mature forest stands, and a lack of wildland fires have contributed to the outbreak. The scale of the current beetle epidemic is unprecedented in historic times, with millions of acres of trees being affected throughout the West from Mexico to British Columbia. To learn about pine beetle in the park watch the Mountain Pine Beetle video.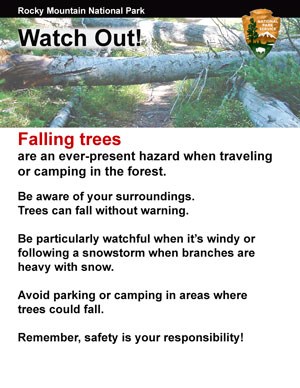 Watch Out for Falling Trees!
Falling trees are always a hazard when traveling in forested areas.
Follow these guidelines to help avoid the risks associated with falling trees.
Be aware of your surroundings. Avoid dense patches of dead trees. They can fall without warning.
Stay out of the forest when there are strong winds that could blow down trees. If you are already in the forest when the wind kicks up, head to a clearing out of reach of any potential falling trees.
Place tents and park vehicles in areas where they will not be hit if trees fall.
Do not rely on cell phones for safety as there is no coverage in many parts of the park.
Last updated: September 9, 2020