Entrance Stations and Visitor Centers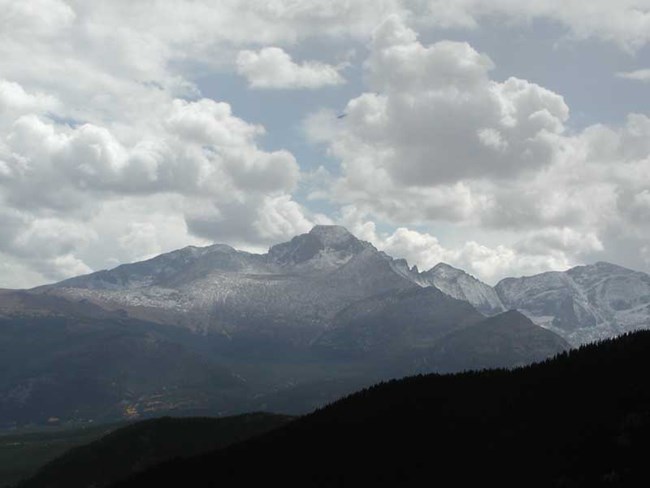 Clicking on the photos on this page will open up a larger version.
Rocky Mountain National Park, located in northern Colorado, encompasses an area of 416 square miles (265,769 acres). Among its special features are beautiful mountain vistas (114 named peaks above 10,000', with Longs Peak at 14,259'), and thousands of varieties of wild plants and animals. RMNP is quite popular, with about than 3 million visitors a year.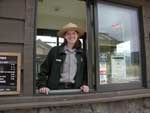 Serving the park at the entrance stations and visitor centers are a group of dedicated full time and seasonal rangers and volunteers. The job of the entrance station rangers is to welcome the visitors to the park, issue entrance passes, and answer visitor questions. Depending on the volume of traffic, some visitors with detailed questions must be directed to the visitor centers where the rangers and volunteers there can more adequately provide the needed assistance.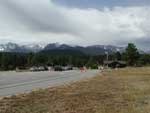 On the east side of the park, located on highway 36 and 3.5 miles west of Estes Park, is the Beaver Meadows Entrance Station. This station, which is one mile west of the park's headquarters and Beaver Meadows Visitor Center, usually receives the highest volume of visitors. The Beaver Meadows Entrance was remodeled in 2000-2001, adding another entrance lane to reduce the time spent waiting in line.
Serving visitors to the Wild Basin area of the park, approximately 19 miles to the south of Estes Park on highway 7, is the Wild Basin Entrance station.
If you wish detailed information to help enjoy your time in the park, stop by one of the park's visitor centers. All offer bookstores and much printed information to supplement the knowledgeable staff. The Beaver Meadows and the Kawuneeche Visitor Centers both show free park films. Fall River Visitor Center features life-sized displays of a wide variety of park wildlife. Moraine Park Museum has interactive geology exhibits. High in the center of the park, the Alpine Visitor Center offers displays about the most noted area of the park, the land above the trees. Gorgeous alpine views can certainly be seen from this center located at 11,796' elevation!
Last updated: March 31, 2012