Trail Closure Detour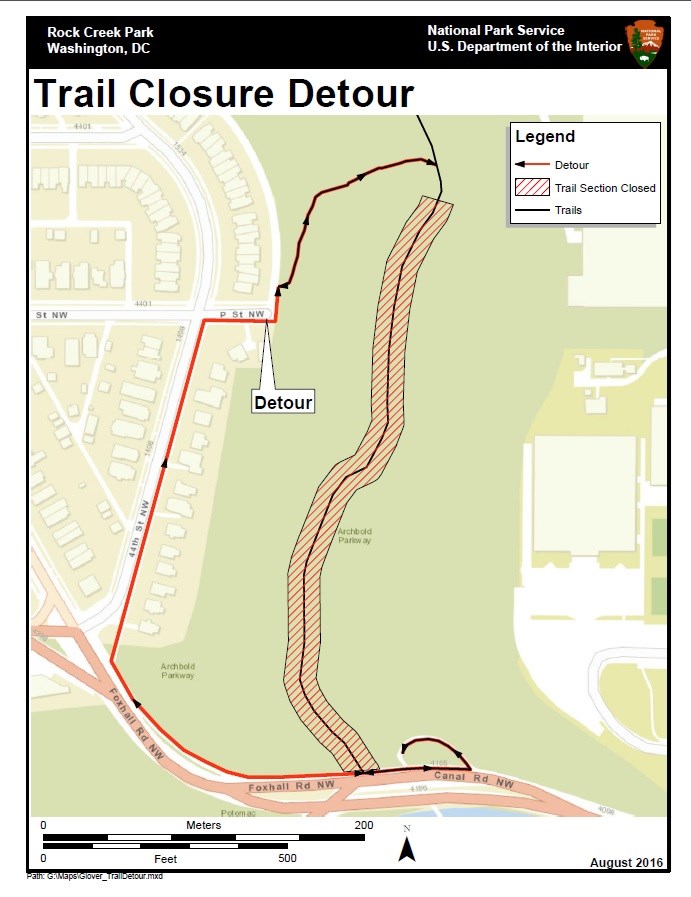 The southern part of the Glover Archbold trail is closed due to aerial hazards caused by the trestle bridge.

Work is being done to safely remove the bridge from the area to alleviate these hazards.

Please obey any posted signs and do not enter the fenced off area.
From Georgetown going north:
Continue on the sidewalk up Foxhall Drive NW. Follow the curve of the sidewalk up the hill until you reach 45th Street NW. Turn right and follow the sidewalk along 45th Street NW until you reach P Street NW and turn right. P Street NW will soon come to a dead end. You must turn left down the alley way and walk a short distance down the alley drive behind the houses. The trail begins behind the second house and goes down an embankment.

From Glover Archbold Park going south:
Follow the detour sign and turn right onto the un-named dirt trail. It will take you to an embankment behind a row of hourses. The trail will deposit you into an alley behind the series of houses. Turn left and continue to where the alley deposits you at the dead end of P Street NW. Turn right on P Street NW and continue until you reach 45th Street NW. Turn left on 45th Street NW and continue until you reach the intersection at Foxhall Road NW. Follow the sidewalk down Foxhall until you reach the bottom of Glover Arhbold Park.
Last updated: May 7, 2022