History of the Old Stone House
Click on a link below to learn about the history of the Old Stone House: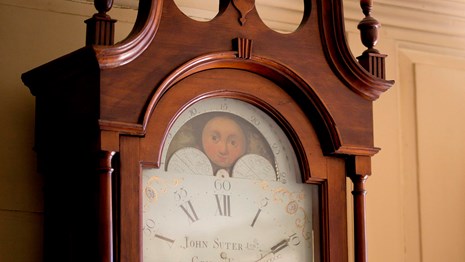 Suter Clock at Old Stone House
Clock made by John Suter in 1810's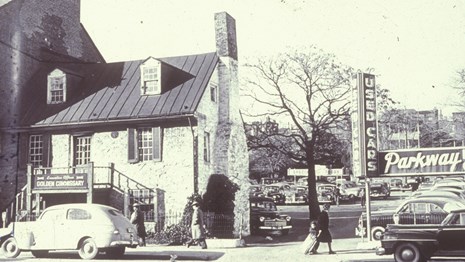 Parkway Motors 1940's
Historic photo of Old Stone House in 1940's when it was a car dealership.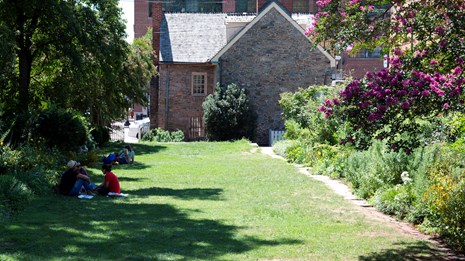 Old Stone House from garden
View of the Old Stone house through the garden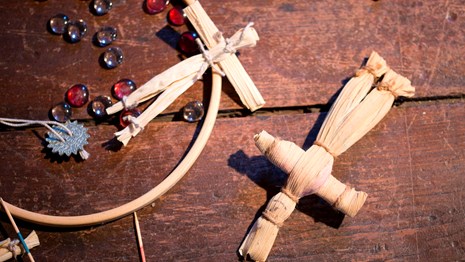 Colonial style toys at Old Stone House
Colonial style corn husk dolls and glass tokens
Since the days when Great Britain ruled the colony of Maryland, Old Stone House has withstood the forces of development and commercial growth that made Georgetown one of the nation's busiest ports by around 1800. Ironically, local folklore is responsible for saving this historical landmark from destruction. In 1791, when President George Washington and Pierre Charles L'Enfant arrived to carve out the federal district from the surrounding "wilderness", they stayed at the Fountain Inn, operated by John Suter and his family. Commonly called Suter's Tavern, the inn was where the president held negotiations with local landowners. Suter's son, John Suter, Jr., would operate a clock shop in Old Stone House around 1810.
Last updated: May 31, 2019