Education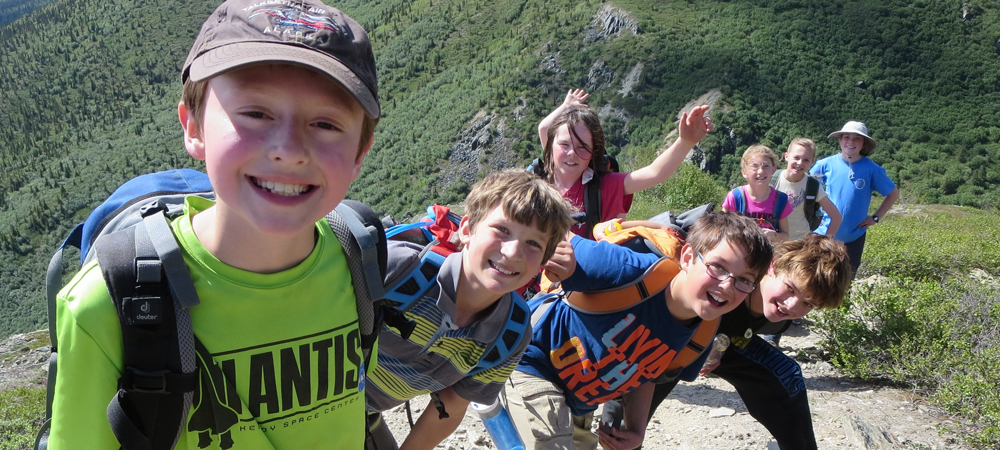 At the Murie Science and Learning Center, we specialize in programs that foster stewardship for national parks by providing access to science and research. We have something for everyone -- kids, students, adults, and organized educational groups.
Programs for Everyone
Field Courses
Through the MSLC, Alaska Geographic offers 15 - 20 field courses Denali each summer season. These active learning, multi-day courses are limited in size, so we encourage interested individuals to register quickly.

Day Programs in Denali
With the assistance of partner organizations such as Alaska Geographic and the Denali Education Center, the Murie Science and Learning Center welcomes many visitors to Denali. Our custom educational programs focus on using science to better manage our park.

Programs for School Groups

Denali Science School
Each fall Murie invites Alaska fifth and sixth-grade classes to spend three days immersed in hands-on science learning in Denali. Teachers apply in April for slots in September and October.
Distance Learning Sessions
Denali rangers deliver live, interactive Distance Learning programs to classrooms around the world for free! Using easy communication technology, teachers can immerse their students in the science of the subarctic without having to leave school. Our hour-long programs are targeted at grades 3 - 6.
Field Trips to Denali
Denali is a great place to take a field trip with your class or student group. Learn everything you need to know about planning field trips to Denali, including how to reserve a ranger for an education presentation.
Programs for Youth and Families

Youth Camps
Each summer several Youth Camps are offered in partnership with the Murie Science and Learning Center. These are fabulous opportunities for first through twelfth graders to experience Denali National Park and Preserve including some overnight camping.

Junior Ranger and Discovery Pack Programs
When visiting Denali, get a free junior ranger activity booklet and earn your badge. You can also borrow a backpack in our Denali Discovery Pack program, full of cool activities and resources. Even if you can't visit Denali, you can still download and complete our virtual junior ranger activity, and have your badge mailed to you.
Programs for Teachers
Accredited Teacher Field Courses
Each summer, teachers are encouraged to participate in accredited field courses offered through the Murie Science and Learning Center. Shoulder-to-shoulder with other teachers, scientists and specialists, teachers participate in field activities and discuss methods, tools, and resources for conveying science to students. Professional development credit is provided by the University of Alaska. Most teacher trainings are coordinated by Alaska Geographic and are based from the MSLC field camp in Denali. Teacher scholarships are available annually, with applications generally due in late January.
Custom Education Programs for Visiting Groups

Through the Alaska Geographic partnership, groups visiting Denali can arrange for custom education services. These fee-based custom educational services are available to universities, K-12 schools, professional associations, and other private groups. Field programs include a specialty bus excursion, guided hiking, and multi-day field courses. Private presentations, conferences, meetings, and catered events can also be coordinated. For more information about the services and fees please contact the Program Director's office by email or 907.683.6438.
Resources for Park Partners

MSLC Science Education Grants
Each year the MSLC awards several grants (generally under $3,000) to individuals or groups who wish to further the Center's goal of promoting science-based education and outreach in Alaska's national parks. Check out past grant recipients' projects and learn how to apply.

Last updated: April 11, 2016