Common Loon Citizen Science Project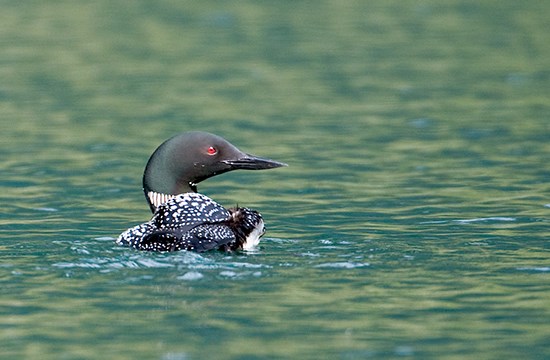 Common loons are a Montana Species of Concern. A glimpse of Glacier's loon population gathered from Montana Loon Day, an annual, one-day, statewide survey that Glacier joined in 1988, raised concerns about the sustainability of Glacier National Park's population. This baseline data set indicated that Glacier harbors approximately 20% of Montana's breeding common loons, yet only an average of five to six loon chicks are produced each year within the park.
In 2005, the Common Loon Citizen Science Project was developed to increase our understanding of Glacier's loon population beyond this annual snapshot, and to improve the accuracy of observations and reliability of the information. During an all-day training, CCRLC staff members instruct citizen scientists on species identification and survey methods for the project. Once trained, citizen scientists are able to venture into Glacier's backcountry and observe loons during a one-hour survey. We ask that participants try to conduct at least three surveys during the field season (on their own time), choosing survey sites based on personal hiking ability and preference. The data gathered provides baseline information on population size and reproductive success at 45 lakes throughout the park.
Loons are susceptible to adverse impacts by human disturbance at nest and nursery sites. Loon surveys also help identify factors that affect nesting success. The contribution of citizen scientists to the long-term record of loon population health is invaluable in providing a scientific basis for management recommendations, especially in regards to issues that may affect loon nesting success and habitat.

Learn more about common loons and the Common Loon Citizen Science Project in Glacier National Park by viewing our Loons on the Edge Story Map.
Last updated: August 4, 2023