Events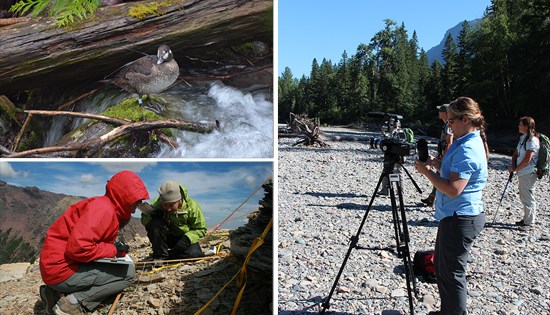 The Crown of the Continent Research Learning Center (CCRLC) provides a variety of opportunities to learn about research, history, and resource issues happening within Glacier and Waterton Lakes National Parks.
Current information about all of the CCRLC's events and programs, as well as park-wide special events, can be found on Glacier's park calendar.
Brown Bag Presentations
Throughout the spring, summer, and fall, the CCRLC offers brown bag presentations that provide information on current research, resource topics, and history to park staff and the public. The CCRLC typically hosts brown bag presentations from April through October at the West Glacier Community Building. In 2020, we plan on taking our brown bag presentations online via Facebook Premiere! Look for notices on Glacier National Park's social media platforms advertising Science Friday Facebook Premiere events. "See" you there!
Waterton-Glacier Science & History Day
Each summer, the CCRLC helps to coordinate Science & History Day, a special all-day program highlighting science and history in Waterton-Glacier International Peace Park. This event brings together scientists and historians conducting research in Glacier and Waterton Lakes National Parks, giving them an opportunity to share their insights and research results with the general public. The location of this event alternates between the two parks on an annual basis.
This summer we are planning something a little different. Science & History Day will become Science & History Week! Due to COVID-19 restrictions on group size and cross-border travel, staff from Waterton Lakes and Glacier National Parks are putting together a week of virtual presentations. This online event will take place September 21-24, 2020 using a video conferencing platform. More information about the event, how to register, and a detailed agenda will be posted here in the coming months. Stay tuned for an exciting week of speakers!
Noxious Weed Blitz
In 2010, Glacier National Park's Citizen Science Program began partnering with Glacier's Invasive Plant Program to put on an annual noxious weed blitz. Participants spend the morning learning how to identify five targeted invasive plant species as well as learn how these species are harming our ecosystem. After lunch, staff and volunteers head out to "weed infested" areas to pull noxious weeds.
Unfortunately, due to COVID-19 concerns, the Noxious Weed Blitz has been CANCELED. Please check back next year for information about this event in 2021.
Last updated: June 30, 2020