Events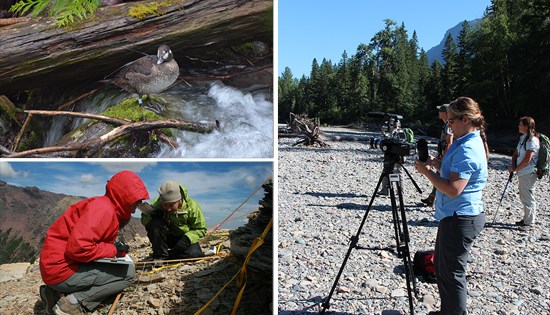 The Crown of the Continent Research Learning Center (CCRLC) provides a variety of opportunities to learn about research, history, and resource issues happening within Glacier and Waterton Lakes National Parks.
Current information about all of the CCRLC's events and programs, as well as park-wide special events, can be found on Glacier's park calendar.
Brown Bag Presentations
Throughout the spring, summer, and fall, the CCRLC offers brown bag presentations that provide information on current research, resource topics, and history to park staff and the public. The CCRLC typically hosts brown bag presentations from April through October at the West Glacier Community Building. To find our current listings, visit Glacier's park calendar.
Waterton-Glacier Science & History Day
Each summer, the CCRLC helps to coordinate Science & History Day, a special all-day program highlighting science and history in Waterton-Glacier International Peace Park. This event brings together scientists and historians conducting research in Glacier and Waterton Lakes National Parks, giving them an opportunity to share their insights and research results with the general public. The location of this event alternates between the two parks on an annual basis.
Topics for this year's program include Waterton-Glacier's unique wooden boat heritage, the interconnections of beavers, frogs, and fungus, bat research in Waterton Lakes National Park, and much more! Science & History Day will take place on Tuesday, July 23, 2019 at the St. Mary Visitor Center in Glacier National Park. The event begins at 9:30 a.m. and ends at 3:30 p.m. The 2019 agenda provides a schedule of speakers for this year's program as well as additonal details.
Science & History Day is free and open to the public. Attendees are encouraged to bring a sack lunch to enjoy during the one hour break. For more information, contact the Crown of the Continent Research Learning Center at 406-888-7863.
Noxious Weed Blitz
In 2010, Glacier National Park's Citizen Science Program began partnering with Glacier's Invasive Plant Program to put on an annual noxious weed blitz. Participants spend the morning learning how to identify five targeted invasive plant species as well as learn how these species are harming our ecosystem. After lunch, staff and volunteers head out to "weed infested" areas to pull noxious weeds.
This year marks the tenth year for Glacier National Park's Noxious Weed Blitz! The event is on Thursday, July 18, 2019 from 10:00 a.m. to 4:00 p.m. in West Glacier. Please RSVP. Participants are asked to bring gloves for hand pulling, hiking footwear, and plenty of drinking water. Glacier National Park Conservancy will provide a free lunch for all attendees.

For more information and to register, contact 406-888-7986 or email us.
Last updated: June 28, 2019