Events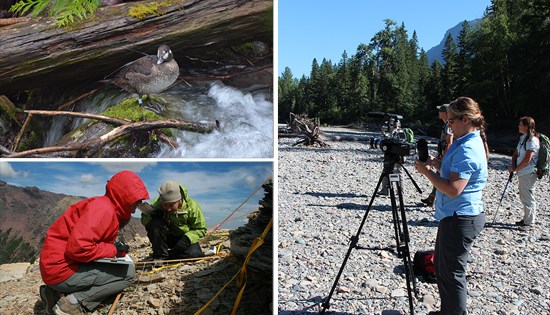 The Crown of the Continent Research Learning Center (CCRLC) provides a variety of opportunities to learn about research, history, and resource issues happening within Glacier and Waterton Lakes National Parks.
Brown Bag Presentations
Throughout the spring, summer, and fall, the CCRLC offers brown bag presentations that provide information on current research, resource topics, and history to park staff and the public. The CCRLC typically hosts brown bag presentations from April through October at the West Glacier Community Building. Limited presentations may be held in 2022. See Glacier's online event calendar for updated information.

In 2020, we created a new approach to learning about research and resource issues through an online "Glacier Science Video Series." These short, interactive videos are posted on Glacier National Park's social media channels, and also found on the CCRLC YouTube page. This summer, we're excited to bring you another great season of Science Friday videos! Follow Glacier National Park's social media channels to get notified about 2022 premiere dates. "See" you there!
Waterton-Glacier Science & History Day
Each summer, the CCRLC co-hosts Science & History Day, a special all-day program highlighting science and history in Waterton-Glacier International Peace Park. This event brings together scientists and historians conducting research in Glacier and Waterton Lakes National Parks, giving them an opportunity to share their insights and research results with the general public. The location of this event alternates between the two parks on an annual basis.
In 2020, Science & History Day went virtual to become Science & History Week, with a week of online presentations streamed live at lunchtime. We're thrilled to offer this virtual event again in 2022! This online event will take place September 26-29, 2022 using GoToMeeting video conferencing. Visit our Science & History Week page for more details on speakers, presentation dates and times, and how to register.
Noxious Weed Blitz
In 2010, Glacier National Park's Citizen Science Program began partnering with Glacier's Invasive Plant Program to put on an annual noxious weed blitz. Participants spend the morning learning how to identify five targeted invasive plant species as well as learn how these species are harming our ecosystem. After lunch, staff and volunteers head out to "weed infested" areas to pull noxious weeds.
The 2022 Noxious Weed Blitz is scheduled for July 19. For more information and to sign up, email us here.
Bighorn Sheep Community Science
The Crown of the Continent Research Learning Center (CCRLC) and biologists from the University of Memphis are recruiting and training 45 volunteers to identify, classify, and record behavior of bighorn sheep in Glacier National Park this season. Bighorn sheep across North America are facing critical disease threats and volunteer efforts will help test whether community science and animal behavior can improve disease surveillance and management in National Parks and other wild areas.
Community science volunteers will gather bighorn sheep behavior data alongside biologists using provided spotting scopes and binoculars. Volunteers need to wear typical hiking clothing and bring their own food and water. Hiking distances will be from 5 to 15 miles a day, with the ability to choose preferred hiking locations and dates. No previous experience is necessary. Attendance is required at one of the three, one-day trainings being held at the Community Building at park headquarters in West Glacier at 162 Mather Drive. Volunteers are required to complete at least two behavioral surveys within the following week of attending a training session.
Training dates:
August 26, 9:00 am to 5:00 pm, West Glacier
September 9, 9:00 am to 5:00 pm, West Glacier
September 30, 9:00 am to 5:00 pm, West Glacier
To register for a training session or for more information, contact CCRLC at (406)-888-7986 or email glac_citizen_science@nps.gov. Glacier National Park Conservancy donors provide nearly all funding for the park's citizen science program. The program will not be able to reimburse volunteer expenses. Visit the Crown of the Continent Research Learning Center Citizen Science page for more information about our program.
Last updated: July 27, 2022