Pets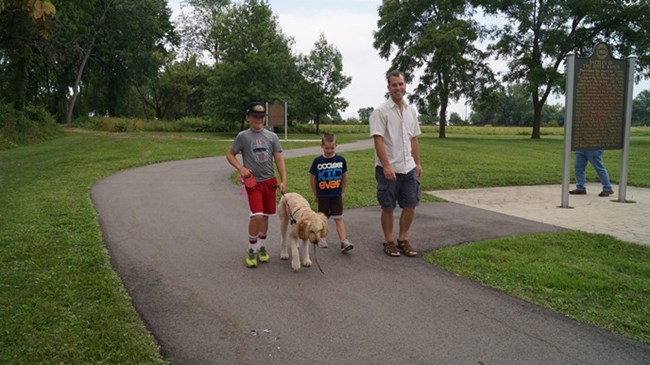 Pets are welcome at the River Raisin National Battlefield Park, the grounds are open from sunrise until sunset. You can enjoy walking your pet on our many trails. We have a 0.6 paved loop trail with historical markers and a 1 mile wood chip trail through the battlefield grounds, as well as a 4.4 mile paved loop trail that runs into Sterling State Park and is part of the River Raisin Heritage Trail.
The Visitor Center building is only for service animals however. Service animals are allowed in national parks. For a definition of a service animal, please see the Americans with Disability Act (ADA) definition.
Please keep your pets on a leash and clean up after them. Please remember not to leave your pet unattended in a hot vehicle. On a summer day with temperatures in the 60's, and even with a window cracked open, the temperature in a vehicle can still quickly reach dangerous levels. On a hot summer day of 85 degrees the temps can easily reach over 100 degrees in less than 10 minutes, even with the windows cracked open.
Last updated: December 13, 2017