Getting Around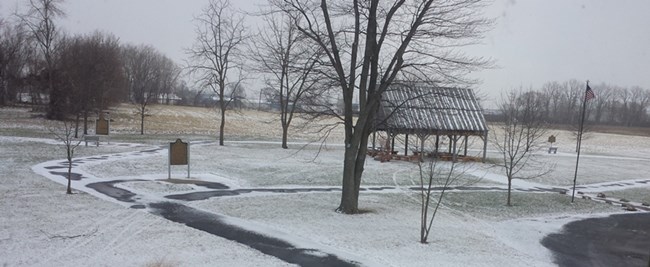 Welcome to the River Raisin National Battlefield Park
There are many different options to get around the park. You can strap on your inline skates, don your hiking boots, or grab your bike and hike and bike the parks many paths. You can also take the parks driving tour to sites around the City of Monroe associated with the Battles of the River Raisin.
The park has an accessible 0.6 paved hiking or biking loop trail with historical markers and a 1 mile wood chip loop trail to hike. In addition the park is connected to the River Raisin Heritage Trail that runs to the adjacent Sterling State Park. The paved trail is fully accessible and is about a 4.4 mile loop.
The park does not have any roads through it, but you can visit many sites throughout downtown Monroe associated with the Battle - a perfect way to do this is to purchase the park's driving tour booklet or ask for tear-off map of historical sites throughout the city.
Last updated: April 10, 2015