Nature & Science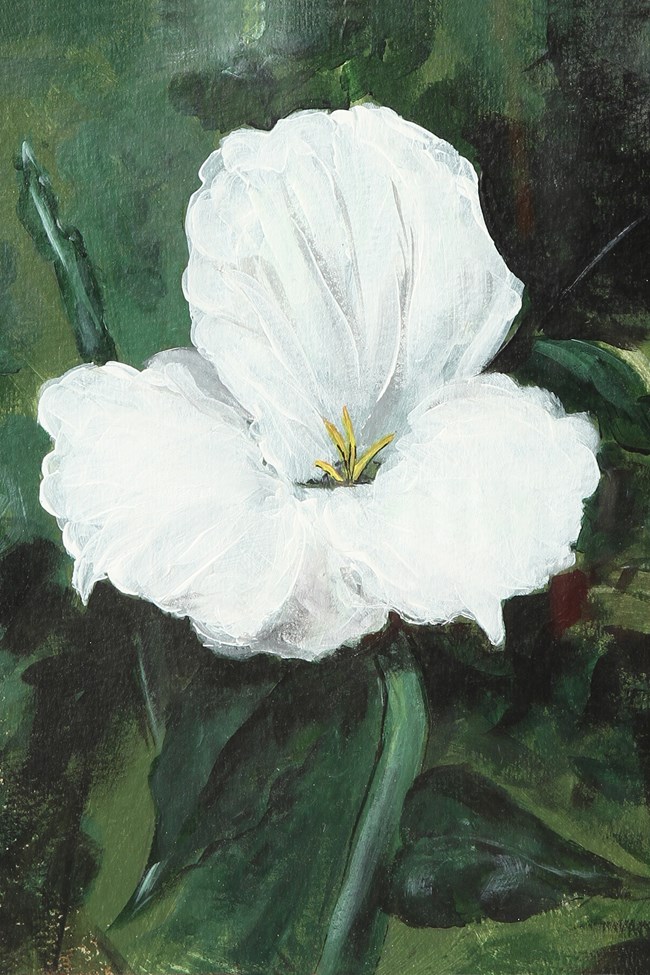 FLORA OF MICHIGAN ART EXHIBITION
Presented by
The National Park Service a
nd
The River Raisin National Battlefield Park Foundation
Curators: Darlene Belair and Becky Mullins
2nd in the Series
"Beautiful Bountiful Michigan"
Exhibition Dates: April 4, 2020 to May 3, 2020
Location: River Raisin National Battlefield Park Education Center
Address: 333 N. Dixie Highway, Monroe, MI 48162
Contact Darlene at
dlbelair10@gmail.com
you have questions or would like to be sent the registration forms which also have more information. You may also contact Park Representative Shawna Mazur at
e-mail us
to have the forms emailed to you.
This is a gallery exhibition. There are no prizes awarded. There is no charge to exhibit your artwork.
General Guidelines
*Art must depict "Flora of Michigan"- flowers, trees, plants and mushrooms (fungi) - and can be portrayed in natural setting, botanical style picture, still life, etc. If a mammal, bird, insect or other wildlife is in the work, that will be accepted as long as the Flora is the focal point. NOT ACCEPTABLE are modern hybridized flora and/or tropical flora. Examples include oriental lilies, hybrid tea roses, non-native orchids, hibiscus, etc. EXCEPTION: Non-native Flora introduced by the French for medicinal and food purposes like the French Pear Tree may be submitted and exhibited. Please specify the non-native French flora if it is your focal species.
There are several good books for reference, including Wildflowers of Michigan Field Guide, Michigan Trees Field Guide, Mushrooms of Michigan Field Guide, Field Guide to Michigan Plants. Or, research online at sites such as
www.michiganbackyardparadise.com
and the like. Have fun exploring and learning about Michigan flora!
*Mediums: Oil, Acrylic, Watercolor, Ink, Pencil, Charcoal, Pastel, Scratch Board, Wood Burning, Wood Carving, Stained Glass, Sculpture, Pottery/Ceramics, and Photography. Other mediums may be accepted if prior authorization is obtained.
*Original art only, no prints, posters, abstracts, or duplicated classroom art.
Exception:
photography prints.
*Each artist may exhibit up to three (3) pieces of art.
*Maximum size 36 inches wide x 48 inches long, including the frame, if framed. Canvas paintings must be framed, or gallery wrapped. Saw tooth hangers are not acceptable, and art should be wired and ready to hang. Sculptures must be able to set on a table or free standing on the floor and easily moved by one person, without mechanical assistance (maximum weight 50 lbs.). Stained glass must set on a table or on a floor easel; if it needs a special easel please provide one. The Battlefield may have easels available for your use.
*Artwork deemed not suitable or not within guidelines may be rejected by the National Park Service or the curators.

*The Flora of Michigan exhibition catalog will be printed with an image or images of your work, your name, title of art, medium, name of Flora and price or NFS (not for sale). The price printed in the catalog will reflect a 15% added commission. The 15% commission will go to the Battlefield's Education Center. If the Battlefield Foundation (RRNBPF) purchases a piece of your art, they will pay the artist's price.
*Art purchased by the RRNBPF or the National Park Service will require releasing the rights of the artwork to be reproduced by the RRNBPF or the National Park Service for purposes of advancing the educational programming of the Battlefield.
We are grateful for the support from the artists and our community and its collective interest in being a part of "Beautiful Bountiful Michigan" exhibitions.
We hope that through our art we can educate all about the animals, plant life and places in "Beautiful Bountiful Michigan." Thank you once more for joining us!



*
FOOD**
FOOD**
FOOD**
FOOD**
FOOD**
"GRAND OPENING GALA"
Friday, April 3, from 7:00 p.m. to 10:00 p.m.
Advanced Tickets for the Gala are $25.00 each Dress – Festive Attire
Attendees receive two (2) complimentary beverage tickets (additional glasses of wine and soft drinks may be purchased)

Complimentary hors d'oeuvres

Complimentary coffee and water

Live music for your entertainment

Complimentary Flora of Michigan exhibition catalog

Silent auction

Artwork will be for sale beginning at the Gala

All proceeds from the event will benefit the Battlefield's educational programs.
*
FOOD**
FOOD**
FOOD**
FOOD**
FOOD**
*
Purchase Gala tickets by calling
the Battlefield's Visitor Center at 734-243-7136, or purchase in person by stopping there, 1403 E. Elm Ave., Monroe, MI. 48162. Advance tickets are $25.00, on sale through April 2, or $30.00 at the door.
Contact Darlene at
dlbelair10@gmail.com
you have questions....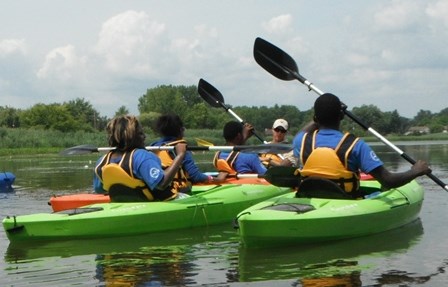 The River Raisin National Battlefield Park "Ticket to Float" Educational program is featured on Time Warner's Cable Program "Ain't Rocket Science"! Check it out at http://bit.ly/1psGwgt
Last updated: August 22, 2019