Animals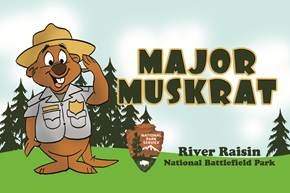 Welcome, I am Major Muskrat, let me tell you why the Muskrat is so important...
First, A little about my family. Although the Beaver family was king during the early years of the Michigan Territory, many other family furs were important to the trade as well, including of course, the Muskrat, otter, fisher, martin, mink, ermine, deer, fox, raccoon and bear families.
As the story goes, before the Battles of the River Raisin, Muskrats roamed the lush marshlands, swamps, and coastal freshwater lakes, ponds and slow-moving streams near the battlefield. We grew to be as much as 11 inches tall, 25 inches long and 4 pounds.In my humble opinion, we were much better looking than the Beaver family. Primarily we enjoyed eating the abundance of aquatic (that's water in muskrat lingo) plants and building beautiful homes in banks similar to those of the beaver, but more modest in size. Because of our superior dense grayish brown coat, which is mostly waterproof and very soft, we became popular furs for the Native Americans and the French settlers. While traps and hunters were certainly a risk, our nocturnal (desire to roam at night) traits helped. It was not until after the Battles of the River Raisin that our lives were more seriously at stake. The battles changed our lives as Muskrats, and your life… That's right, life would be very different today if things had turned out differently in the war.
Last updated: April 10, 2015