Things To Do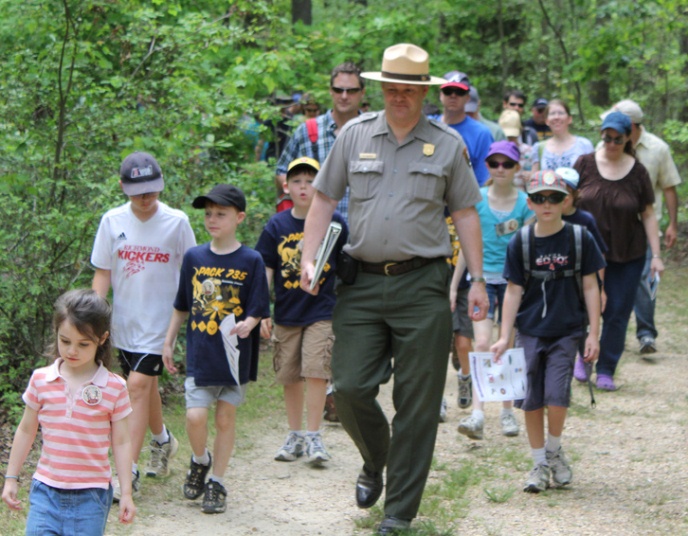 Richmond National Battlefield Park is one of more than 400 parks representing important examples of our country's natural and cultural heritage. Richmond NBP is comprised of 13 separate sub-units, each identified by distinctive brown signs, and interpreted by National Park Service historical markers.
Whenever possible, spend some time walking in each of the 13 park areas; it is the best way to understand the battlefields. Many of the sites have short self-guided trails that take you past historical features, such as earthworks and structures. Some of these resources are extremely fragile. Visitors to the park help to preserve these places for future generations by staying on the designated trails.
Ranger-led Programs
Ranger-led talks and tours are a great way to enrich your park experience. During the summer, the park offers programs at Tredegar Iron Works, Cold Harbor and Fort Harrison. Please check the park calendar for special ranger-led events throughout the year.
Museum Experiences
The park's main visitor center at Tredegar Iron Works has two floors of museum exhibits exploring the Civil War in and around Richmond. Additionally, Chimborazo Medical Museum has exhibits for visitors to learn about wartime medical practices. Both museums offer short films.
Kids are very welcome at any park site. At Tredegar Iron Works, kids can explore the Civil War in the kids' corner with books, dress-up costumes and more. Kids can complete activities to become a Junior Ranger at Tredegar Iron Works and out at the battlefields.
Richmond National Battlefield Park has many opportunities for outdoor activities. Visitors can hike over 1.5 miles through the woods at Malvern Hill. There are also trails over 1 mile at Gaines' Mill and over 2 miles at Cold Harbor.
Cycling is very popular along the scenic Battlefield Park Road in the Fort Harrison area. However, be aware of cars.