Richmond NBP 150th 1862-2012 Visitor Guide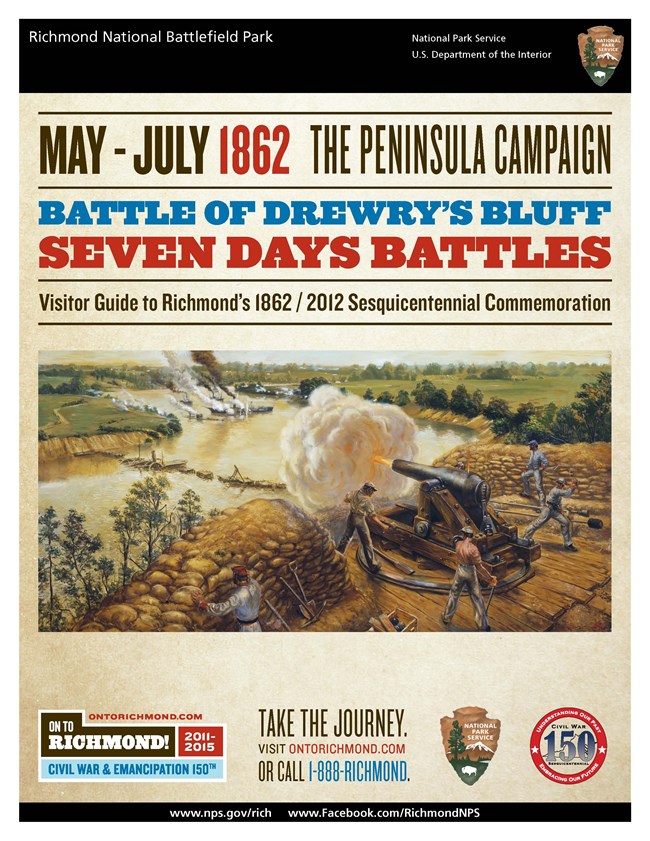 A full-color visitor guide for Richmond's 2012 Sesquicentennial events will be available at all of the park's visitor centers beginning with the Drewry's Bluff events the week of May 9.
You can also download a pdf version of the guide below. The guide is designed to be easy to print on a home printer on letter-size paper.
Full guide (10 mb)
Sections of the guide:
Cover only (3 mb)
Page 2 - A brief history: the Civil War in Richmond in 1862 (3 mb)
Page 3 - Evening Programs Series, Special Tours and Presentations (1 mb)
Pages 4-5 - Events at Drewry's Bluff (May 9 to 15) (2mb)
Pages 6-7 - Events at Beaver Dam Creek and Gaines' Mill (June 23 to 27) (3mb)
Pages 8-9 - Events at Glendale and Malvern Hill (June 30 to July 1) (3mb)
Page 10 - Additional events hosted by partners; lodging information; acknowledgements
Page 11 - Things to know before you come
Page 12 - Schedule at a glance
---
Return to the Richmond Sesquicentennial page.
Last updated: May 7, 2012