Richmond NBP 150th – 1862/2012
Explore the Campaign that Changed the Course of the Civil War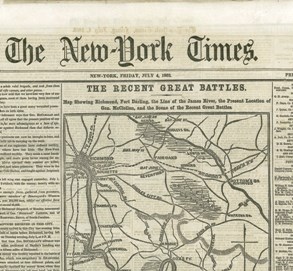 One hundred and fifty years ago this very spring, the eyes of the world were on Richmond.
Here in May and June 1862, more than 200,000 Americans fought to decide the future of the United States.
In April 1862, Union General George B. McClellan began moving his army--numbering more than 100,000--from his landing point at Fort Monroe, on the Virginia Peninsula between the York and James rivers, west toward Richmond.
After a series of Confederate defeats in Kentucky and Tennessee and the capture of New Orleans, and now with a massive Union army approaching the capital, the future of the Confederacy was uncertain. McClellan hoped to take Richmond and bring the war to an end.
By July, his campaign had failed. It resulted in more than 50,000 combined casualties. Far from from ending, the course of the war was transformed.
The new commander of the Confederate Army of Northern Virginia--Robert E. Lee--seized the initiative. He led his army north and by summer's end was across the Potomac.
Northern leaders issued a call for tens of thousands of new troops and began to craft a document that would become the Emancipation Proclamation.
More about Drewry's Bluff and the Seven Days Battles.
The Sesquicentennial Commemoration: "On this date, in this place, at this time…"
From May to July of 2012, Richmond National Battlefield Park and historic sites throughout the region will commemorate this momentous time in our nation's history…at the times and in the places where it happened.
Join us for a wide range of activities...living history demonstrations, NPS ranger-led walking tours of the battlefield landscapes, lectures, discussions, and multimedia presentations. We will take you to the farm fields, buildings, and roadways where events took place that shape our nation today.
For details, download the visitor guide for Richmond's 2012 Sesquicentennial events.
Last updated: February 26, 2015