News Release
Doyle Sapp Named Superintendent of Richmond National Battlefield Park and Maggie L. Walker National Historic Site
Date:
August 4, 2018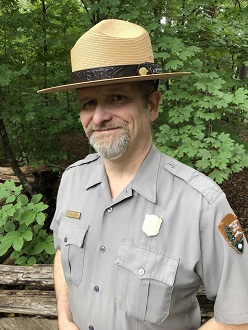 Doyle Sapp Named Superintendent of Richmond National Battlefield Park and Maggie L. Walker National Historic Site
PHILADELPHIA—
National Park Service (NPS) Northeast Regional Director Gay Vietzke has named Doyle Sapp as the next superintendent of Richmond National Battlefield Park and Maggie L. Walker National Historic Site in Richmond, Virginia. He succeeds Dave Ruth, who retired at the end of 2017. Sapp currently serves as superintendent of Guilford Courthouse National Military Park in North Carolina.
"Doyle Sapp has the experience of running distinct, complex Civil War and military history parks," said Vietzke. "He knows how to give the exceptional parks in Richmond the attention and care that they both richly deserve, so that they can reflect the stories of our nation."
"These special places, the focal point of the Civil War and the home of a pioneer for advancement and progress, are enduring symbols of struggle, hope, pride, courage, and triumph—all universal themes in the complete American story," said Sapp. "I've had the good fortune of spending the greatest amount of time in my NPS career in Virginia. Its rich history and friendly people have drawn me back time and again. I am looking forward to working with both staff and partners to build upon their strong foundation."
Sapp, a 25-year NPS employee, led two parks in the summer of 2017: Fort Sumter National Monument and Charles Pinckney National Historic Site in South Carolina. Previously he served as superintendent at Horseshoe Bend National Military Park in Alabama. He served as a police officer in his hometown of Americus, Georgia in the 1990s. It was there he began his NPS career as a seasonal interpretive ranger and co-op student at Andersonville and Jimmy Carter National Historic Sites. Upon graduating with a bachelor of science in history from Georgia Southwestern State University, he received his first permanent job on the National Mall in 1997. From there he held various positions at Death Valley National Park, Appomattox Court House National Historical Park, and Castillo de San Marcos National Monument.
Sapp will move to Richmond with his wife Noelle and their two rescue cats. In his free time Sapp enjoys hiking, exploring historic sites, reading, and playing golf badly.
—
www.nps.go
v
—
About the National Park Service:
More than 20,000 National Park Service employees care for America's 417 national parks and work with communities across the nation to help preserve local history and create close-to-home recreational opportunities. Visit us at
www.nps.go
v
, 
on Facebook 
www.facebook.com
/
nationalparkservic
e
, Twitter
www.twitter.com
/
natlparkservic
e
, and YouTube 
www.youtube.com
/
nationalparkservic
e
.
Last updated: August 4, 2018