Richmond National Battlefield Park Officially Opens Rural Plains Unit to the Public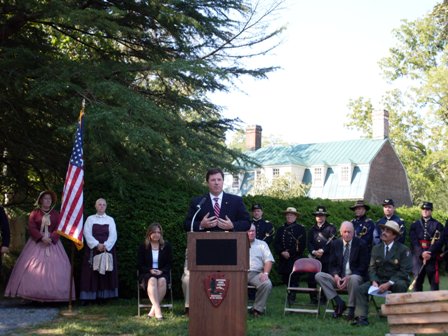 News Release Date:
September 10, 2011
Contact: Elizabeth Paradis Stern, 804-226-5023
RICHMOND, Va. - On Saturday, September 10, Richmond National Battlefield Park cut the ribbon on its newest park unit, Rural Plains, which is located on the Totopotomoy Creek battlefield in Hanover County.
The site, which includes the 18th-century Shelton home and Civil War earthworks, was transferred to the National Park Service from the Totopotomoy Battlefield at Rural Plains Foundation in 2006. Since then, the park has performed stabilization work on the house, conducted historical landscape and archeological surveys, and is about to complete a structural and historical analysis of the house.
The multi-faceted history of Rural Plains is exceptional. Its location at the heart of the Totopotomoy Creek battlefield makes it extremely significant. And the historic Shelton house and plantation story give visitors a unique ability to understand the impact of the war on a Virginia family.
The dedication program included the park superintendent and representatives of state and local governments, including Virginia Delegate Chris Peace and Debbie Winans and Chuck McGhee from the Hanover County Board of Supervisors. They were joined by Andy Shield and Robert Bluford, both of whom were instrumental in the preservation of the property.
The Rural Plains unit includes new interpretive signage, a parking area, and a two-mile walking trail with a published guide available at the site. The house will be open to the public only during special events.
On May 29, 1864, Union troops arrived at Sarah Shelton's home in rural Hanover County to inform her that a battle would soon take place on her farm and to offer to help the family-which ranged in age from 14 to 35-to relocate. Mrs. Shelton resolutely denied the offer and the family remained, sheltering in their basement as the house became a headquarters for Maj. Gen. Winfield S. Hancock. A signal station on the roof of the house attracted Confederate fire, and 51 artillery shells hit the building on May 30 alone. After the Battle of Totopotomoy Creek (May 30-31, 1864) produced no conclusive results for the Federals, Grant began to extend his line southward toward Cold Harbor.
No house in Hanover County has a more distinguished history than Rural Plains. In addition to its remarkable Civil War experience, the home hosted the 1754 wedding of Patrick Henry and Sarah Shelton. Multiple generations of the Shelton family were proud stewards of the property. The last descendant, William R. Shelton, Jr., died at age 85 on May 5, 2006.Many of the original furnishings that were present during the 1864 battle were purchased by the National Park Service and will remain with the home. Rural Plains is listed on both the Virginia Landmarks register and the National Register of Historic Places. It is also listed on the Virginia Farm Bureau Bicentennial Farm Register.
Last updated: February 26, 2015