Richmond Youth Build New Trail at Malvern Hill
Date:
August 5, 2015
Contact:
Kristen Allen, 8047955019
RICHMOND, Va. –This month local high school students are constructing a new trail at the Malvern Hill Battlefield unit of Richmond National Battlefield Park.The students are part of a special program called the Youth Conservation Corps, and their effort will provide visitor access to an important area of the battlefield for the first time. The new trail will add 1.5 miles to an existing trail for a total of more than 3 miles of pathways across both open and wooded landscapes and access to an overlook of Western Run, a tributary of the James River..
Malvern Hill was the last major battle of the Seven Days Campaign, a weeklong series of battles outside Richmond that drove the United States Army away from the Confederate capital city to the James River in 1862. The new trail provides pedestrian access to several previously unavailable portions of the battlefield. Following the June 30, 1862, battle of Glendale (or Frayser's Farm, as it was called in the South) Union troops retreated to Malvern Hill where they formed a nearly impregnable line with their backs toward the James River. Prior to the attack of July 1, 1862, the Confederate army assembled around the base of Malvern Hill, primarily in the woods and in the fields of the Carter Farm.. The new trail bisects both those places, and allows visitors to follow in more detail the routes taken by Southern soldiers as they prepared to launch their assault that cost 5000 casualties. 
The historical highlight of the new trail is a deeply cut ravine where thousands of Confederates crouched in shelter, grimly awaiting the command to charge the Union position. The trail also offers visitors an opportunity to explore the natural features of the battlefield, areas that abound with wildlife including deer, eagles, turkeys and a diverse community of songbirds.
A brochure will be available to accompany the trail when it opens on October 1, 2015. The free publication will match up the events of the famous battle with the landscape today through the use of quotes from soldiers who were there in 1862.
The work to create the trail is being done by six high school students who make up the park's Youth Conservation Corps (YCC).This program is a paid summer opportunity for students to experience conservation work. Members of the YCC are employed at Richmond National Battlefield Park for eight weeks during the summer. Each year the students undertake a special project, and the Malvern Hill trail is the key project for this year's students. This is the program's sixth summer at Richmond National Battlefield Park.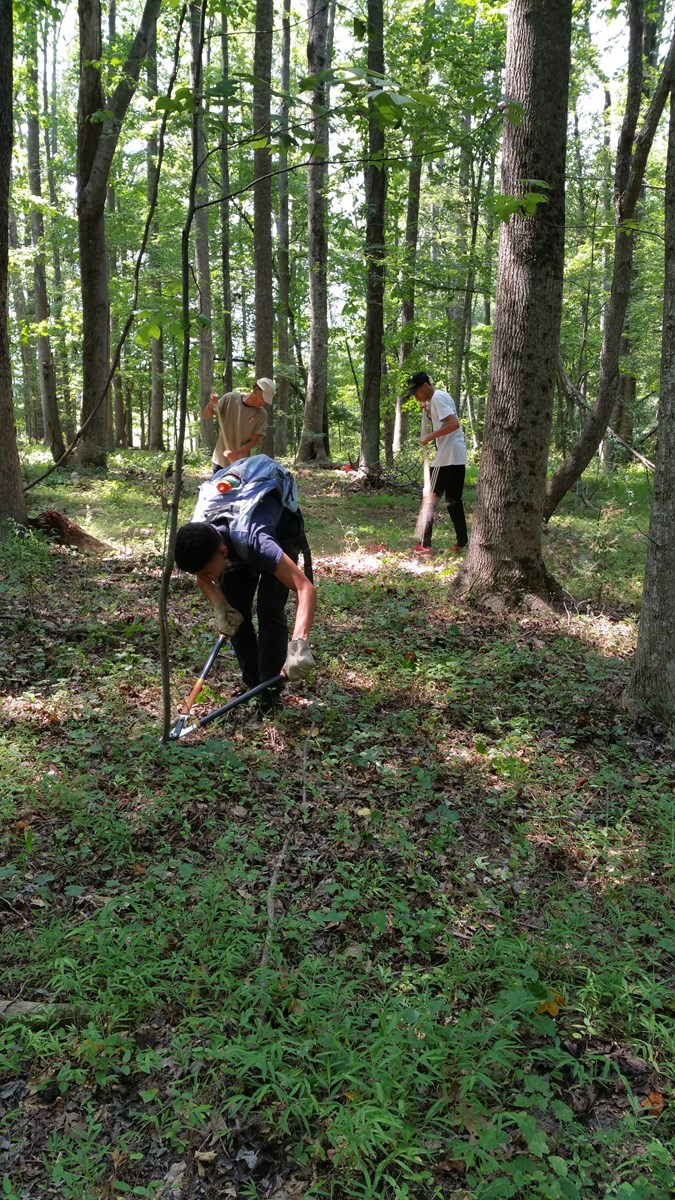 Last updated: August 6, 2015