Richmond National Battlefield Park fares well after Irene; Potential loss of witness tree is key concern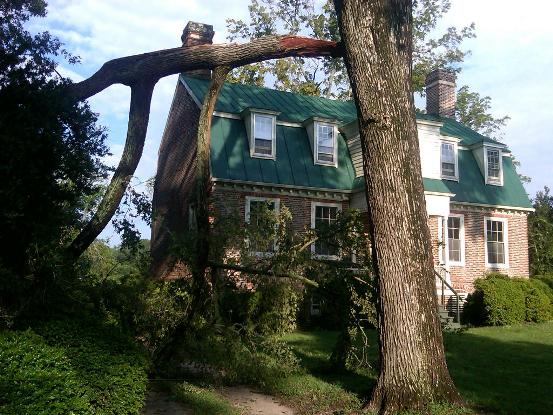 News Release Date:
August 29, 2011
Contact: Elizabeth Paradis Stern, 804-226-5023
While assessments are continuing to be made, it appears that Richmond National Battlefield Park and the Maggie L. Walker National Historic Site weathered Hurricane Irene with only moderate damage to park resources.
Park facilities and visitor centers are open today, August 29, 2011, with the exception of the Maggie L. Walker house and visitor center, which were closed due to lack of power. In addition, all trails in the park are closed for visitor safety pending full damage assessments.
The park lost many trees from high winds and in some cases their fall severely damaged Civil War earthworks.
But one of the greatest losses may be to one of the few remaining so-called witness trees. A slow-growing American Elm at the park's Rural Plains unit in Hanover County lost a significant portion of its crown when one of its main limbs was destroyed. Through coring, the tree was found to date from before the Battle of Totopotomoy Creek (May 1864). It was young but sizable at the time of the war and thus served as a "witness" to the battle. Arborists will make assessments as to whether the tree can be saved. The historic house on the property was not impacted.
The park was closed on Sunday, August 28 as a result of the hurricane.
"We feel so fortunate that the park did as well as it did," said park superintendent David Ruth. "We're pleased to be back in operation for the public in such short order."
Park trails and the Maggie L. Walker National Historic Site are expected to open on Tuesday as conditions warrant.
The Rural Plains unit is the park's newest and is scheduled to open to the public on September 10. A ribbon-cutting is scheduled for 10 a.m. and will kick off a weekend of living history activities and guided tours of the site. More information about the opening of Rural Plains can be found at www.nps.gov/rich/parknews/rural-plains-opening.htm.
Updates about park operations may be found online for Richmond National Battlefield Park at www.nps.gov/rich and for Maggie L. Walker at www.nps.gov/mawa.
Last updated: February 26, 2015