News Release
Harvest Day Returns to Rural Plains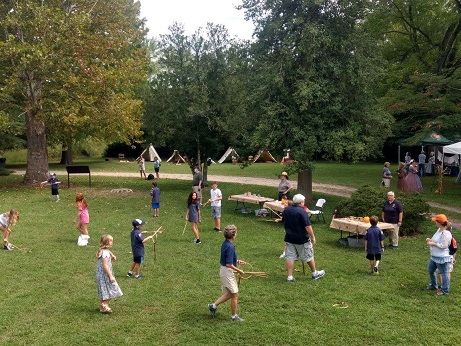 News Release Date:
September 7, 2018
RICHMOND, Va. — On Saturday, September 15 from 10 am to 4 pm, Richmond National Battlefield Park invites the public to experience 300 years of history at its second annual Harvest Day. Offered in partnership with the American Battlefield Trust and the Rural Plains Foundation, this event features the Trust's signature Generations program, games and crafts, artisans, living history and historic weapons demonstrations, and more. The event is free and open to the public.
"We appreciate the outpouring of support we received from the community for Harvest Days last year and are excited to bring it back," said Andrea DeKoter, the park's Chief of Interpretation and Education. "Rural Plains holds a special place in our local and national history, and we look forward to seeing everyone there again."
With roots dating back to the 1700s, the Rural Plains property witnessed the birth of America, experienced the ravages of civil war, and transitioned from working plantation to 124-acre National Park Service site. Throughout Harvest Day that rich history will be reflected in a variety of living history demonstrations and activities. The event kicks off at 

10 am

 with Revolutionary War and Civil War camps and historic weapons demonstrations. At 

10:30 am and 1:30 pm

 the American Battlefield Trust will conduct Generations programs where adults and kids can experience the lives of American soldiers and civilians by building fences, learning how to charge on a battlefield, and exploring battlefield tactics. Visitors will also have the opportunity to meet Patrick Henry and learn about his connection to the Shelton family. Kids can enjoy crafts and play popular games of the 18th and 19th centuries. 
The event runs from 10 am to 4 pm. A full schedule of activities can be found at 
www.nps.gov/rich
. Free parking is available at Rural Point Elementary School, located at 
7161 Studley Road, Mechanicsville
, with free shuttle bus service running continuously from 

9:45 am to 4:30 pm.

 Accessible parking is available on site at 
7273 Studley Road, Mechanicsville
. Food and drink are not available at Rural Plains, so visitors are encouraged to bring their own snacks or pack a picnic lunch.
For more information, please contact Richmond National Battlefield Park at (804) 226-1981, or visit us online at 
www.nps.gov/rich
 or 
www.Facebook.com/RichmondNPS
.
About Richmond National Battlefield Park
Cold Harbor is one of 13 Civil War sites protected by Richmond National Battlefield Park in Hanover, Henrico and Chesterfield counties. Experiencing the park's 13 battlefield sites and five visitor centers usually takes a full day. A driving tour of the battlefields is available at any of the park's sites. The main park visitor center is located at Historic Tredegar (470 Tredegar Street in Richmond) and provides museum exhibits, audio-visual programs and orientation services to help plan a visit to the battlefields. 
Last updated: September 7, 2018