Richmond National Battlefield Park to Commemorate Battle of Drewry's Bluff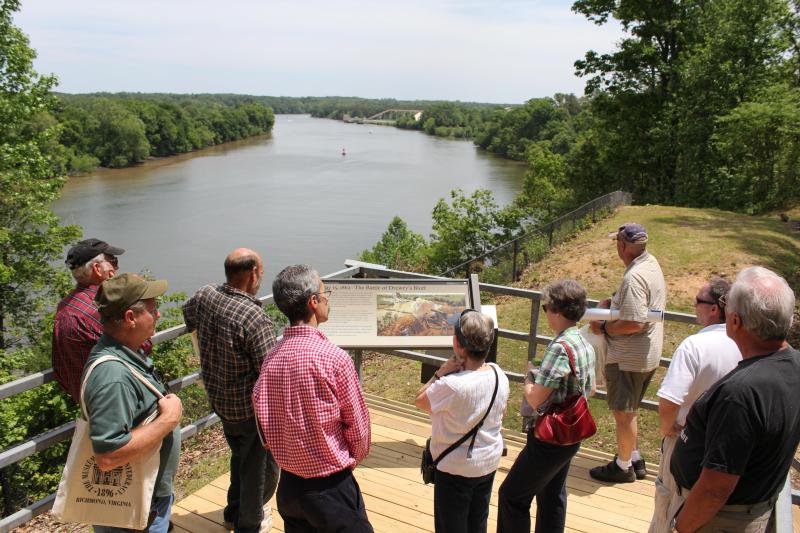 News Release Date:
May 17, 2017
Contact: Andrea DeKoter, 804-226- 5023
RICHMOND, Va.— On Saturday and Sunday, May 20 and 21, a lesser-known piece of the area's rich Civil War history will come to light at Drewry's Bluff as living historians, Park Rangers, and community partners explain the naval battle that tested Richmond's defenses on May 15, 1862. This event is free and open to the public.
Members of the James River Squadron and Confederate Marines, National Park Service volunteers who portray Confederate sailors and Marines, respectively, will be camped at the site from 10 am to 5 pm Saturday and 10 am to 3 pm Sunday to perform artillery drill demonstrations and showcase the types of equipment, including underwater mines, used by the Confederate navy. This marks the James River Squadron's 30th year of participating in the event.
"One of the greatest things about doing our living histories there is the variety of park visitors we have met and talked with over the years," said Jeff Johnston, one of the James River Squadron's founding members. "We've had people from all over the country and the world. We've had locals in Richmond that come out year after year and hang around the camp with us listening to our stories of the incredible histories of the US Navy and the Confederate Navy on the James River."
Park Ranger tours describing the technology and weapons of naval warfare during the Civil War will be held at 11 am Saturday and 11 am and 2 pm Sunday. Additionally, staff from the Monitor Center of the Mariners' Museum in Newport News will be on site to offer a special program about the USS Monitor, arguably the war's most famous ship, at 2 pm on Saturday. A special National Park Service Junior Ranger activity book and patch will be available for children ages 5-13.
Drewry's Bluff is located at 7600 Fort Darling Road, Richmond, VA 23237. For more information, please call 804-226- 1981, visit
www.nps.gov/rich
or find us on Facebook at
www.Facebook.com/RichmondNPS
Last updated: May 17, 2017