Rivers and Streams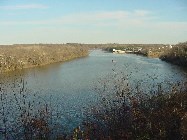 The James is the largest and most prominent river influencing Richmond National Battlefield Park. Feeding into the Chesapeake bay and originating in the mountains of western Virginia, the James river spans almost the entire state. The park units overlooking the James (Chimborazo, Fort Harrison, and Drewry's Bluff) offer a view of a unique perspective on an important change in the river's composition. Chimborazo is located in downtown Richmond and the river to the west is generally shallow and faster moving. The city lies on what is known as the fall line, the transition from piedmont to coastal plain. At Drewry's bluff and Fort Harrison to the east of the city the river is much deeper and slower moving.
The park's many other units contain smaller streams that ultimately serve as tributaries to the James River. Beaverdam Creek, Boatswain Creek and Bloody Run, all located in the park's northern most units, empty into the Chickahominy River, which in turn, empties into the James. Crewes Channel and Western Run, both located at the park's Malvern Hill unit empty directly into the James. The park's many streams create excellent habitat for many species of fish and amphibians, as well as creating valuable wetlands, marshes, and ponds.
These rivers and streams contribute to Richmond National Battlefield Park's rich and diverse natural resources. In order to preserve these natural features, the park employs management tools such as forested riparian buffers whenever possible to reduce land use impacts on the park streams. These buffer zones, along with regular water quality monitoring, help to preserve the park ecosystem, along with the many downstream ecosystems within the James river watershed.


Last updated: February 26, 2015