Things To Do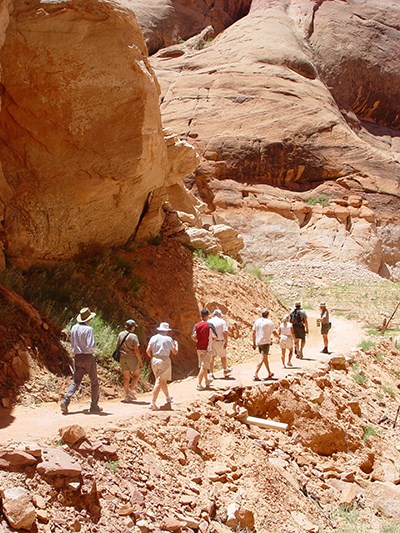 Although Rainbow Bridge is immediately adjacent to Glen Canyon National Recreation Area, it is a separate unit of the National Park System. Rainbow Bridge was declared a National Monument in 1910 and, as such, the range of permitted activities is smaller than for the recreation area. Traditional water-based recreation activities such as swimming, fishing, water skiing, etc. are not allowed anywhere within the monument.
Getting to the bridge requires hiking at least a mile.Visitors may take the trail from the courtesy dock to the viewing area for the bridge. Exact trail length varies with lake levels. We ask that visitors respect the religious significance of Rainbow Bridge to neighboring tribes and consider viewing Rainbow Bridge from the viewing area rather than walking up to or under the bridge.
Remember to carry water with you! This is a desert environment and even short hikes require preparation. There are two shade shelters along the trail with benches that make great rest/reflection points.
People may backpack to Rainbow Bridge on the Navajo Mountain trail with the appropriate permit available from Navajo Nation Parks & Recreation.


Last updated: March 9, 2020