Permits & Reservations

A permit is required for the following activities:
Special Use Permits
---
Filming & Photography Permits
Professional photography and videography may require a permit. See below for more information.
---
Commercial Use Authorization
To operate a business, profit or non-profit, in Puʻuhonua o Hōnaunau National Historical Park requires a Commercial Use Authorization (CUA). All commercial tours that enter the park on a regular basis must have a CUA and are required to pay the commercial tour fee at the entrance station at each visit. The CUA is for commercial services that originate and terminate outside of the boundaries of the park. Activities such as advertising, soliciting, collecting fees or selling goods or services within the park boundaries are strictly prohibited.

Park fees include: $200 for the CUA and $7.00 per person upon all entry into the park (including walk-in and bicycle tours).
To be considered for a CUA you must complete the Commercial Use Authorization Application (PDF 180 KB) in its entirety and submit the completed application with payment to the park.

U.S. Department of the Interior
National Park Service
73-4786 Kanalani Street
Kailua-Kona, HI 96740
PH: (808) 329-6881 x 1400 FAX: (808) 329-2597
If you have any questions, please call the number above or email us. We look forward to working with you and seeing you in the park.
---
First Amendment Area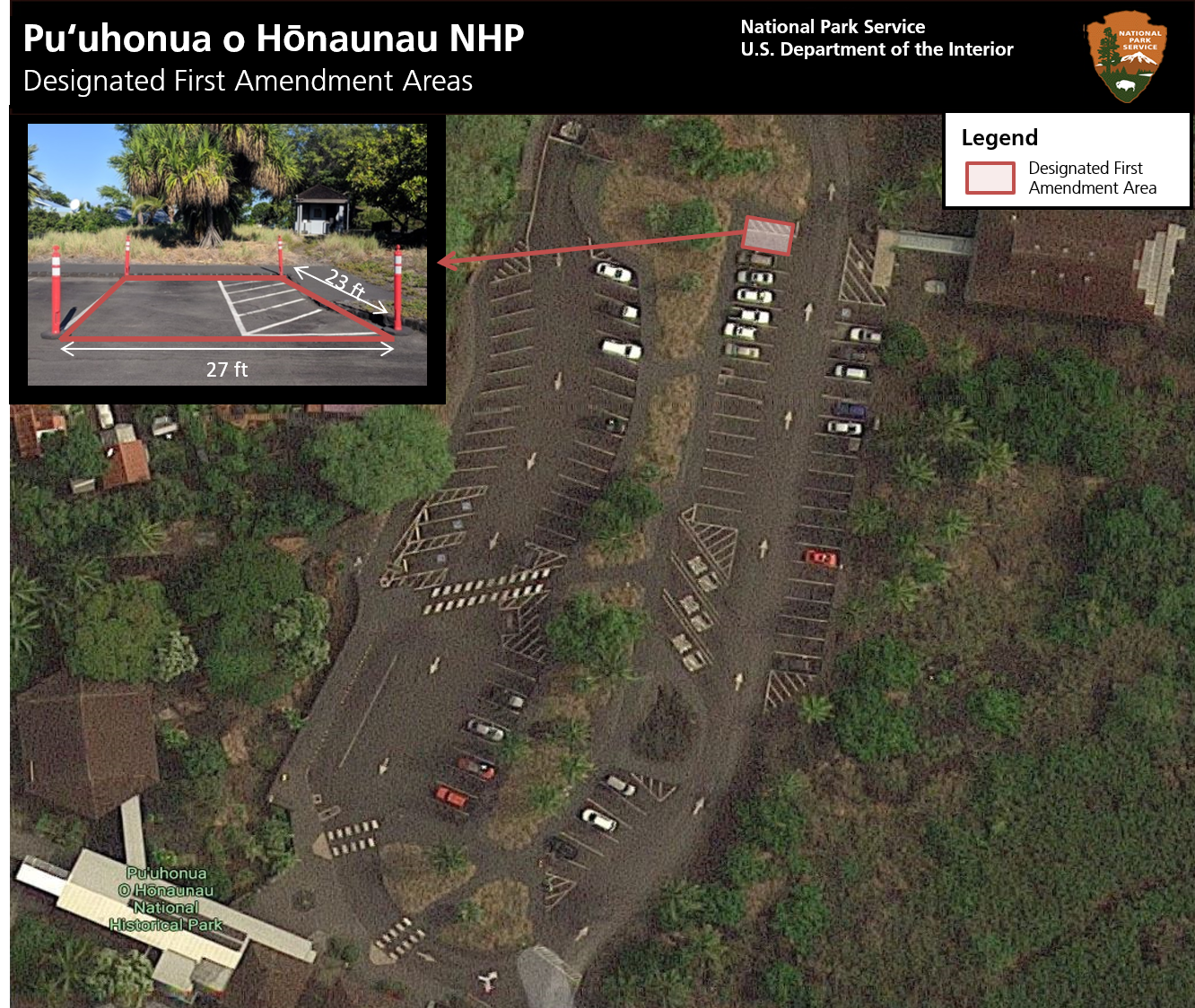 The First Amendment area is located in the last parking space across from the Administration building. The dimensions of the area are: 27 feet x 23 feet. One free-standing tent may be used in this area for protection from the sun.

The sale of merchandise in the park is prohibited by Title 36 C.F.R. § 5.3 except for the sale of printed matter as defined in Title 36 C.F.R. § 2.52. Commercial notices or advertisements shall not be displayed, posted or distributed on park property. Printed matter will be limited to message-bearing textual printed material such as books, pamphlets, magazines and leaflets whose primary purpose is the advocacy, definition or explanation of a group's or individual's political, religious, scientific or moral beliefs. PERMITTEE may also distribute printed material free of charge. All other forms of merchandise, including posters, coffee mugs, audio tapes, DVDs, video tapes, T-shirts, hats and other clothing materials may not be sold under this regulation.

The free distribution of non-commercial message bearing electronic media to the public, such as CDs, DVDs, and other readable electronic media is authorized, but the PERMITTEE may not ask or demand payment or request a donation in exchange for these items.

No fee may be collected or donations solicited, except for the sale of printed material as noted above. Donations may be passively collected if participants choose to make a donation, but not for the exchange of any product or service.

First Amendment Activities are restricted the designated First Amendment area.

The last parking space on the north side of the parking lot on the exit side


Last updated: December 22, 2021