Eating & Sleeping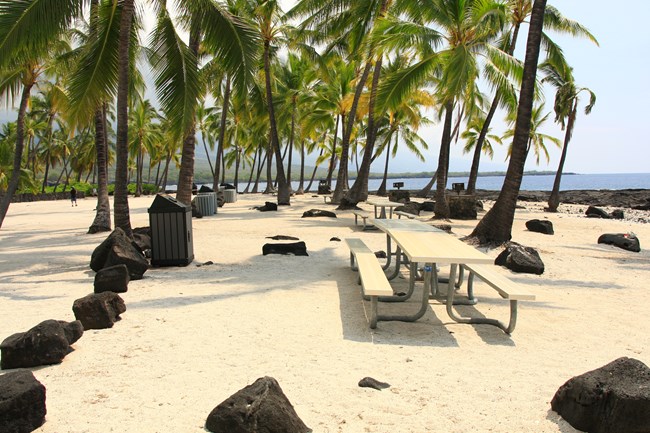 Where to Eat
Food is not available in the park. The nearest restaurants and convenience stores are located along Highway 11.

Picnic Area
Visitors may pack a lunch and enjoy a picnic in the Picnic Area. Drinking fountains are available near the Visitor Center. Picnic tables and charcoal grills are available for everyone and may not be reserved. Large groups of 20 persons or more must obtain a permit in advance to use the area. For more information on permits, visit the Permit & Reservations page. In order to preserve the natural landscape, umbrellas, tarps and other such equipment as well as recreational activities are not permitted.
Where to Sleep
There is no lodging available in the park and camping is not permitted. Several Bed & Breakfasts are located within Hōnaunau and the neighboring areas. Hotels may be found in Kaliua-Kona, approximately 1/2 hour from the park. Other lodging options are available in major towns throughout the Island.

For near-by camping facilities, check out the County of Hawaiʻi Camping Reservation Site.

Last updated: April 28, 2020