Preservation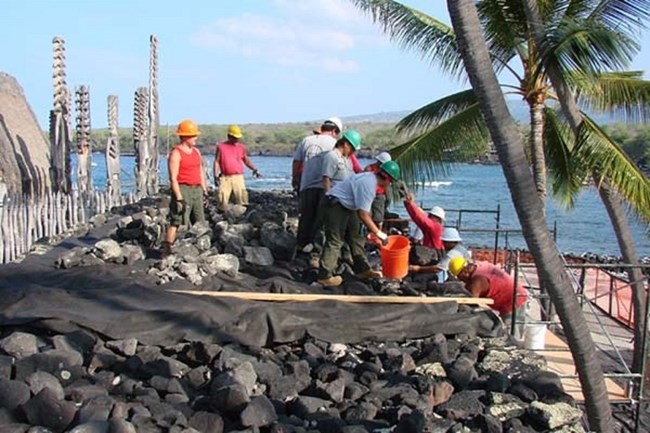 At Puʻuhonua o Hōnaunau National Historical Park, we work to preserve and protect ancient and historic sites to further the understanding of traditional Hawaiian lifeways and perpetuate the cultural connections of the kanaka maoli (Native Hawaiians) to this wahi pana (sacred, legendary place). The purpose of this preservation is for the benefit and inspiration of all people so that traditional Hawaiian values and practices will thrive now and into the future.

But what does preservation really mean? How does the National Park Service mālama (care for) these culturally significant sites?

In 1966, the National Historic Preservation Act authorized the Secretary of the Interior to "establish professional standards for the preservation of historic properties." Over the years, these standards and associated guidelines were developed and eventually the Secretary of the Interior's Standards for the Treatment of Historic Properties were created. The four treatments for historic properties are:
Preservation
Restoration
Reconstruction
Rehabilitation
While those four words may just sound like synonyms, to archeologists and preservationists, they have very different meanings. At Puʻuhonua o Hōnaunau, three of the four treatments have been used over the years to care for the many historic sites within the park. On this page, learn the differences between the treatments, find out how these treatments are used here at Puʻuhonua o Hōnaunau National Historical Park, and find out what you can do to help preserve the park.
Preservation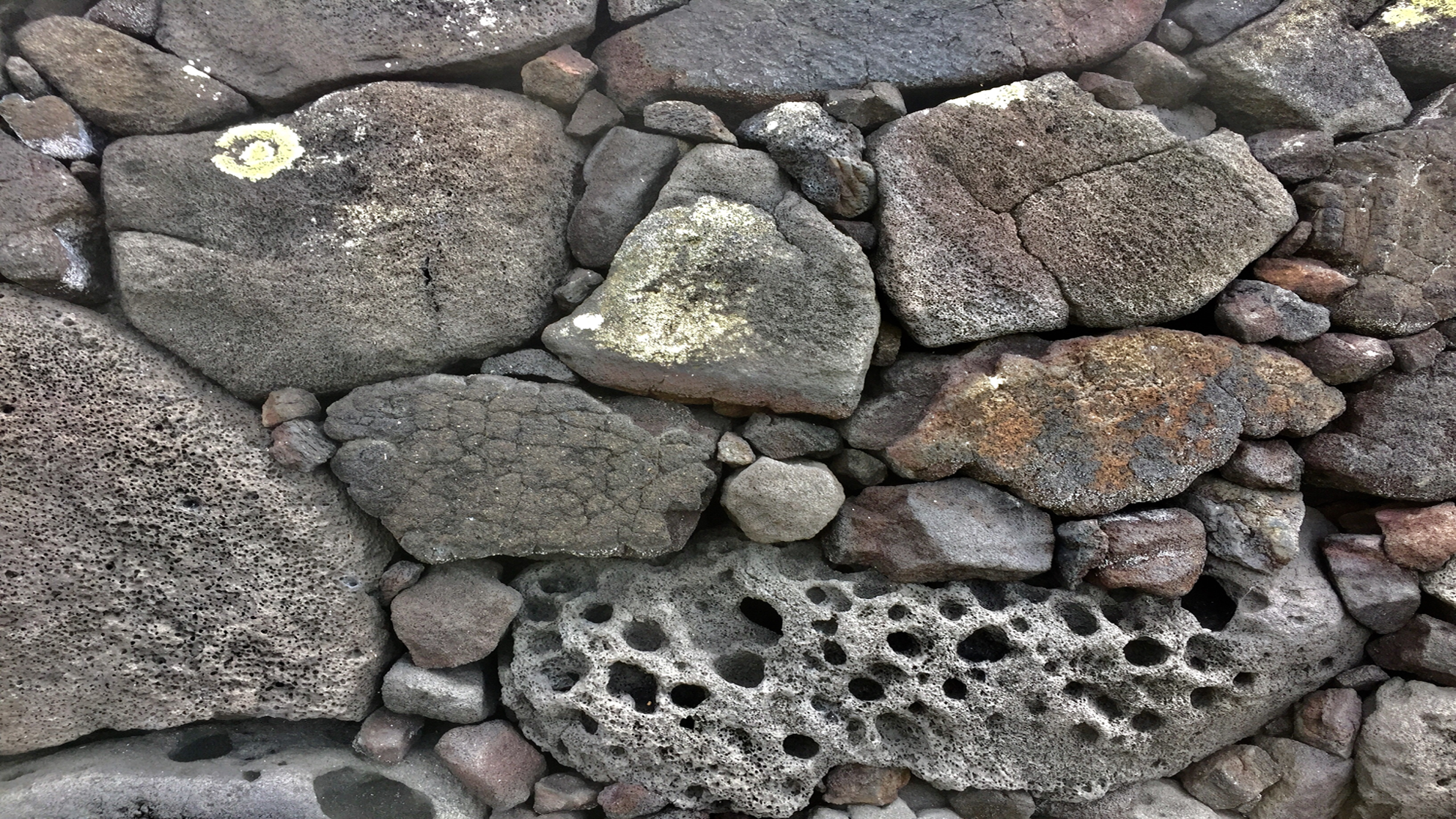 At Puʻuhonua o Hōnaunau, preservation is the primary treatment used to maintain historic and ancient structures. For example, to repair or stabilize one of the many uhau humu pōhaku (dry-stacked masonry) walls located throughout the park, the following steps are taken to preserve the structure:
Use historic images and any existing documentation as guidelines

Follow the existing foundation

Re-set stones using uhau humu pōhaku
As part of this mission of preservation, Puʻuhonua o Hōnaunau employs a team of resource management professionals who specialize in traditional Hawaiian masonry and work to teach local youth the skills they need to continue this practice into the future. To learn more about uhau humu pōhaku and the park's masons watch this video documentary Stories in Stones: Living History of Hawaiian Dry-Set Masonry.
Restoration & Reconstruction
Puʻuhonua o Hōnaunau National Historical Park was officially established in 1961 and in the years following the park engaged in an enormous effort to restore and reconstruct many of the sites you see today.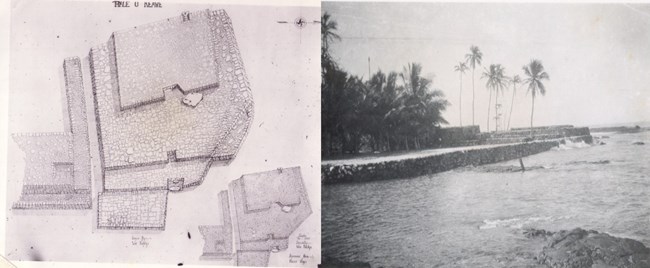 One example of restoration work completed in the early days following establishment of the park is the restoration of the stone heiau (temple) platform of Hale o Keawe. This platform had been previously modified and rebuilt in a 1902 project directed by W.A. Wall. Wall's reconstruction involved a series of terraces, like a truncated pyramid, which was found to be not entirely historically accurate. So, from 1966 to 1967, National Park Service archeologist Edmund J. Ladd worked to excavate and restore the heiau platform to its original size and shape.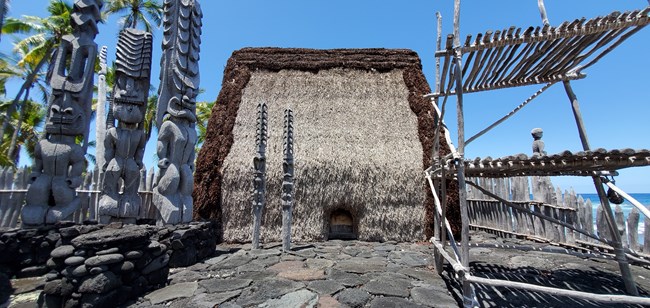 At Puʻuhonua o Hōnaunau, reconstruction is used for structures containing organic materials that decompose over time. The kiʻi (carved images) and the hale poki (consecrated house) at Hale o Keawe heiau are excellent examples of reconstruction projects in the park. Both projects used knowledge passed down over generations as well as documentary and physical evidence to reconstruct historically accurate depictions of the original structures. This gathered knowledge from oral histories, generational knowledge of construction and craftsmanship techniques, historic drawings and descriptions of materials, and archeological excavations all served to inform the reconstruction of the hale poki and kiʻi images Hale o Keawe. These reconstructions and the restored heiau platform together form the restored historic scene of Hale o Keawe that we see today. Learn more about restoration of the historic scene of Hale o Keawe.

Today, visitors from around the world are drawn to Puʻuhonua o Hōnaunau to see and experience a piece of Hawaiian history made possible by this restoration project. For Native Hawaiians, the restoration of Hale o Keawe represents the perpetuation of cultural connections to this wahi pana. Today, Hale o Keawe continues to be a functioning religious site for Native Hawaiians, cared for by Hawaiians with deep ties to the lands the park encompasses.
---
How Can You Help Preserve the Park?
Preservation is a full-time job for the Resource Management team at Puʻuhonua o Hōnaunau National Historical Park. Ancient and historic structures require constant maintenance due to damage from storms, high surf, earthquakes, wildlife, and… yes… humans! Help preserve ancient and historic structures by following these tips when visiting:
Don't walk, sit, stand, or climb on the walls.

Uhau humu pōhaku (dry-stacked masonry) walls are not held together by mortar or cement, so they can be easily damaged by the weight of even the smallest human.

Don't move or remove rocks or stones.

It takes a trained eye to recognize the remains of ancient and historic structures. What may seem like a pile of rocks to you, may be the remnants of an ancient heiau (temple). To avoid disturbing archeological sites, don't move any rocks or build your own structures or cairns with rocks you find in the park.

Don't make coral graffiti.

Always Leave No Trace.

Educate Yourself!
Mahalo (thank you) for your kōkua (help) in preserving this important piece of Hawaiian history.
Last updated: September 30, 2020