Be A Junior Ranger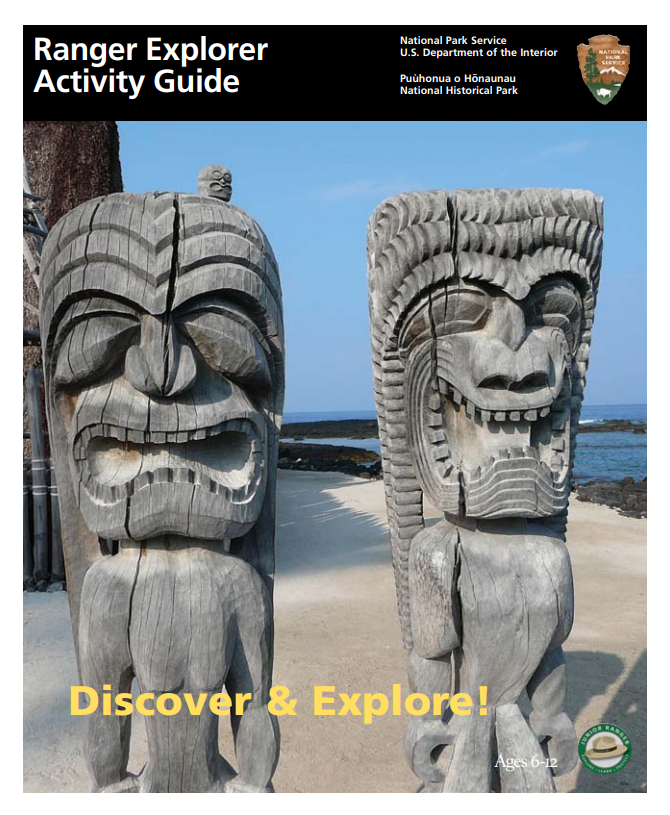 Junior Ranger Programs Now Available online!
Explore! Learn! Protect! Become a Junior Ranger at Pu'uhonua o Hōnaunau National Historical Park. Opportunities for all ages (even adults) makes becoming a Junior Ranger an experience for the whole 'ohana (family).

The "Junior Ranger Explorer Activity Guide" (PDF 3.1 MB) (ages 6-12) introduces kids to Hawaiian culture and the unique natural history of Hawai'i; the classic Junior Ranger experience.

The "Honu Helper Activity Booklet" (PDF 702 MB) (ages 3-6) provides fun coloring, matching and drawing activities for the youngest learners.

Lastly, for the big kids at heart, the "Kupuna Ranger Booklet" (PDF 1.4 MB) (ages 13 and beyond) takes a deeper dive into Hawaiian history and culture.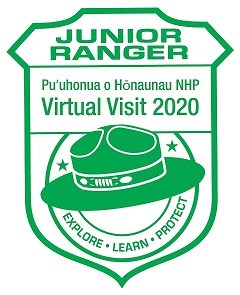 Visit Virtually
Most activities in the Junior Ranger booklets can be completed through the Pu'uhonua o Hōnaunau National Historical Park Virtual Tour.
Don't forget your Virtual Visit Junior Ranger Stamp!
Are you a fan of Eastern National's Passport to Your National Parks? Continue your collection of Junior Ranger Cancellation Stamps with our new Virtual Visit Junior Ranger Stamp! This can be downloaded, printed, and pasted in your Passport.
What do I do after I complete the Junior Ranger Booklet?
During the current park closure, we will not be accepting Junior Ranger booklets through the mail. Instead, email us and we will send you a special Virtual Junior Ranger badge that you can print out at home. You can also participate in saying the Junior Ranger Pledge with your 'ohana (family).
Junior Ranger Pledge
Before you say the Junior Ranger pledge, let's learn some Hawaiian words found in the pledge. Mālama ka 'āina means to care for and live in harmony with the land. 'ike is your knowledge or understanding. And to "live aloha" is to create positive thoughts and feelings and treat each other with love and respect.

Now you're ready to become an official Junior Ranger at Pu'uhonua o Hōnaunau National Historical Park! Raise your right hand and repeat the pledge below:
"As an official Junior Ranger, I pledge to:
Mālama ka 'āina
Get to know the plants, animals, culture, and historical places around where I live,
Share my 'ike with others,
And always live aloha!"
Last updated: May 26, 2020