1871 Trail
Visit our keyboard shortcuts docs for details
Duration:

7 minutes, 43 seconds
Take a hike down the 1871 Trail with Ranger Tyler as she describes the evolution and preservation of this historic trail which is part of the larger Ala Kahakai National Historical Trail. This trail is also importantly the "alanui aupuni" the Hawaiian Kingdom government road, that you can still see as the "King's Trail" in North Kona/South Kohala or the "Māmalahoa Trail" in North Kona which intersects our sister park, Kaloko-Honokōhau National Historical Park.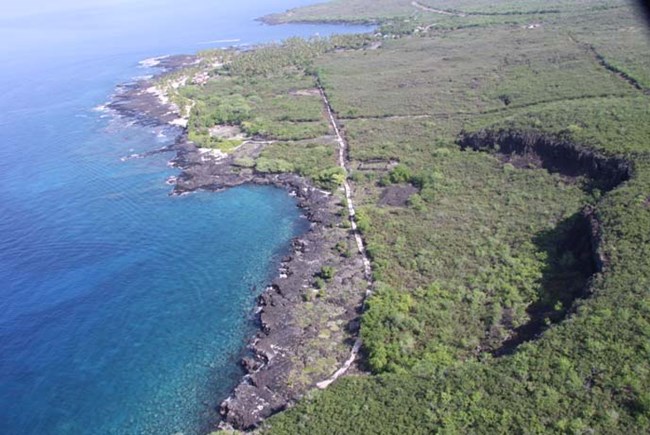 The 1871 Trail
The 1871 Trail refers to the section of coastal trail that originally extended from Nāpō'opo'o south to Ho'okena, and was remade in 1871. The name of the trail is derived from the date of a single correspondence between Henry Cooper, Kona Road Supervisor, and F.W. Hutchinson, Minister of the Interior, dated August 1, 1871: "I have remade two miles of road on the beach across the lands of Ke'ei and Hōnaunau, this improvement was much required as the road had become almost impassable." Historically, the trail was the main artery for coastal travel in the area connecting several villages along its length.
Trails of this type are often referred to as "two-horse trails" because the trail width was built to easily accommodate two horses. In addition, curbstones lined the path helping to delineate the trail so that pack animals could follow it without constant guidance from the rider. This type of trail was constructed during the nearly 80 year period lasting from 1841-1918. In 1918 the trail section north of Hōnaunau was improved for wheeled traffic; however, the section south to Ho'okena was never modified for motorized vehicles.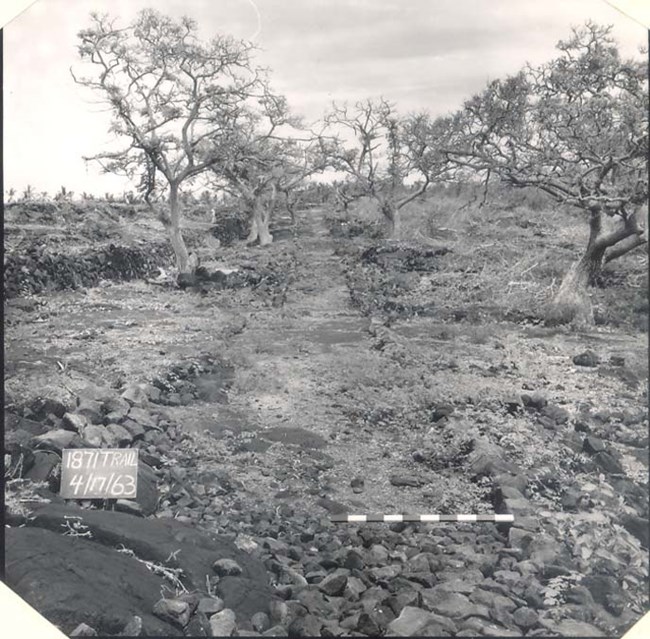 The 1871 Trail is one section of a coastal alaloa, or regional thoroughfare. Alaloa were long trails that formed primary routes of travel between communities, royal centers, religious sites, and resources. Shorter more locally important trails were known as alahele. Inland and coastal alaloa and alahele typically ran laterally with the shoreline. Another important type of trail was the mauka (inland) - makai (seaward) trail, also known as ala piʻi uka or ala piʻi mauna. Every ahupua'a (traditional land division extending from the uplands to the sea) typically included one or more mauka-makai trail. These trails connected coastal villages with upland resources including dryland garden plots located at elevations with more consistent rainfall.
Last updated: May 26, 2020