Cabin Branch Pyrite Mine Trail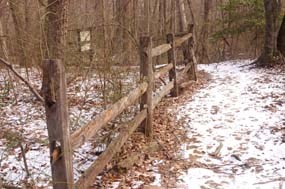 0.3 miles, 0.5 kilometers
This short trail descends down to an open expanse above the banks of the Quantico Creek, once the site of the Cabin Branch Pyrite Mine (1889-1920). During the mine's operation, more than 200,000 long tons of pyrite was brought to the surface and processed into sulfuric acid. This was used to make soap, fertilizer, and gunpowder. This trail can be reached by parking in Parking Lot D and traveling along the Pyrite Mine Road for about ten minutes until you reach the trail marker on your left.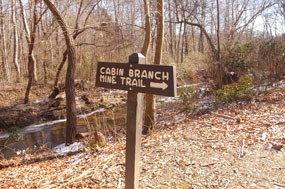 Follow the trail for a couple more minutes and you will come upon Quantico Creek and the North Valley Trail. From here you can follow North Valley Trail either north or south (by crossing the bridge) along the creek. Take the trail south to reach the site of the main Cabin Branch Pyrite Mine complex.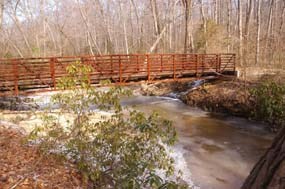 A bridge crossing over Quantico Creek will take you on the southern route of the North Valley Trail where you can see the old Cabin Branch Pyrite Mine site and other foundations remaining from the 1889-1920 mine operation.
Last updated: September 28, 2017