Milling in the Park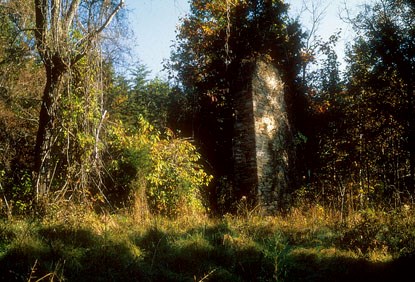 Milling was one of several industries that helped this area grow in the colonial era. This industry, in addition to the tobacco trade, rose up on the banks of Quantico Creek, spurring the growth of the town of Dumfries and the hillsides that became Prince William Forest Park.
The First Mill
Gibson's Mill was the first mill in the area, constructed at the mouth of Quantico Creek in 1691. Little is known about the mill, but it did spur the growth of a small town of the banks of Quantico Creek. Records from the area are virtually inexistent until 1740, when locals requested that the town be planned in a grid pattern. Dumfries was incorporated in 1749 and became a significant colonial port.
Economy in Transition
After the port of Dumfries collapsed in the late 1700s, milling remained while the economy shifted toward subsistence agriculture. By the 1820s, there were four mills operating on Quantico and Chopawamsic Creeks. None were large scale. Chapman's Mill, also referred to as Missouri or Purcell's Mill, sat along Chopawamsic Creek. A combination gristmill and sawmill sat here since before the American Revolution. There are some records that show it was once a slave depot. Following the war, it was a post office.

Located on Quantico Creek, Clifton's Mill was one of the larger operations in the area. It was a water-powered gristmill. Records indicate that it was intended to be a Clifton Mill was terribly unsuccessful. It was sold twice to pay owners' debts. James Deneale owned the mill from 1813 to 1824 and saw that water power was an important part of America's future, but was not able to turn a profit. He put the mill up for sale in 1818.

There were two other mills along the South Fork of Quantico Creek, but neither of these were successful, nor are there any remnants of them. Despite the possibility of industrial development, these mills failed more often than not. By the mid-1800s, the area of the park became a small, self-contained agrarian community.
Last updated: October 3, 2017