Colonial Times 1720-1780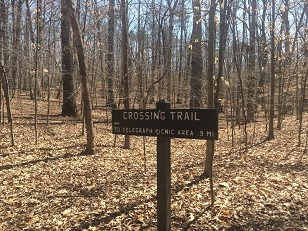 Absentee Landowners and Early Development
The population in the area now composing the Park seems to have stayed very low during this period. Only a few farm or house sites have been found that date to before 1770. The lack of sites is related to the pattern of land ownership. In the middle years of the eighteenth century down to the Revolution, most of the Park lands belonged to large landowners who lived elsewhere.

The largest single tract in the Park belonged to the Taylor family of Mt. Airy, owners of the Neabsco iron furnace and one of Virginia's richest and most prominent families. John Taylor II purchased 2,146 acres of Park lands some time before 1750. Other wealthy men who speculated in Park lands were John Linton, Foushee Tebbs, John Gibson, and William Carr, all of Dumfries. During this period, the Bennett Plantation Site and the Luke Cannon Plantation Site were both occupied in some fashion. The Clifton Mill Plantation may also have been founded in this period.
The Stone Pile Site: Tenancy in the Park
The Stone Pile Site is the remains of a small tenant farm located in the northwestern corner of the Park. The property originally belonged to absentee speculators, so the residents were probably tenants or slaves, as were the majority of the Park's inhabitants in colonial days. 29 artifacts were uncovered at the site, including 21 shards of refined pottery, three pieces of olive-colored wine bottle glass, one iron kettle fragment, one nail, one piece of a white clay tobacco pipe, and one piece of brick. We believe the site to be representative of many similar small sites that must have stood in and around the Park area in the eighteenth century.
Westwood
There was only one grand plantation in the immediate vicinity of the Park; it was called Westwood. Westwood was built in the 1740s by the Reverend James Scott, minister of the church in Dumfries. The site of the Westwood house is located within the Quantico Marine Corps Base just outside the Park, but the plantation included at least a thousand acres of Park lands. The house is described in a 1762 petition to the House of Burgesses as "a very good and large Brick House, two Stories high, with Cellars under the Whole, and completely finished, all Necessaries and convenient Offices, with a Garden, Orchards, and fine Meadows".
-Information taken from Few Know That Such A Place Exists: Land and People in Prince William Forest Park by the Louis Berger Group, Inc.
Last updated: October 16, 2017