Creating Prince William Forest Park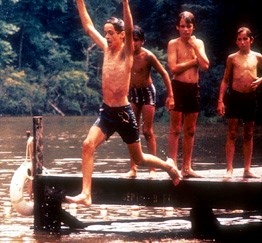 The park was established in 1936 as a summer camp for underprivileged youth from the Washington, DC area.

During the Great Depression (1929-1939) nearly one-third of the U.S. workforce was unemployed. When Franklin D. Roosevelt took office as President in March 1933, he instituted a series of back-to-work programs. Included was the Civilian Conservation Corps (CCC) which was open to young men aged 17 to 25 and the Works Progress Administration (WPA), a wide-ranging program for workers from all walks of life.

The Roosevelt Administration also instituted a host of infrastructure projects nationwide, and directed the newly enrolled "clients" of the back-to-work programs to build them. One of these was the Recreation Demonstration Areas (RDA) program, in which the federal government built 44 recreation areas across the country aimed at providing an outdoor experience for young urban dwellers. At the end of the program, all but eight of the RDAs were turned over to their respective state governments.

15,000 acres of marginal farmland in Prince William County, Virginia was selected to be Chopawamsic RDA (named after a creek that ran across the southern border of the new park). Local farmers were paid to move from the property, and two companies of the CCC were brought in to create recreational camps, lakes, and trails in the RDA. Local blue collar workers were hired under the aegis of the WPA. They built five cabin camps, several earthen dams and one of concrete, and reforested a large part of the RDA.

Once the camps were open to the public, various non-profit social service agencies in the Washington, DC area organized and operated the camps, with the National Park Service providing maintenance and infrastructure support. Chopawamsic became a model RDA site, partly due to its proximity to the nation's capital and its excellent programs.

Chopawamsic RDA welcomed its first campers in the summer of 1936, hosting some 2,000 young people from Washington, DC. It was also one of the first RDAs to allow African-American youth into its summer program, thanks in large part to a donation from Washington, DC businessman A.E. Lichtman.

In 1940, the RDA was officially transferred to the National Park Service, named Chopawamsic National Capital Park. From 1942-1945, the park was leased to the War Department (predecessor to the Department of Defense) as a training base for American spies. After World War II, the National Park Service re-opened the youth summer camps and continues to manage them as group recreation destinations today. It was also in the post-war era, in 1948, that Congress changed the park's name to Prince William Forest Park.
Last updated: July 11, 2019