Martin Luther King Jr. Day of Service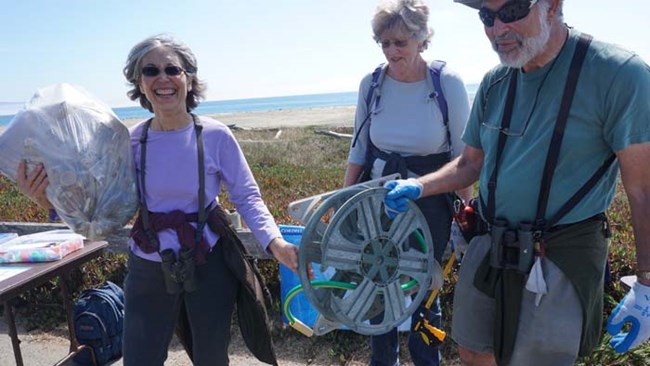 Point Reyes National Seashore, Point Reyes National Seashore Association, and GirlTrek invited the public to join them on Monday, January 16, 2017, to transform Dr. King's life and teachings into community service and action to help preserve our public lands.
We hosted two service projects:
Beach Cleanup at Limantour Beach, 11 am to 2 pm
Dune Restoration at Abbotts Lagoon, 9:30 am to 2 pm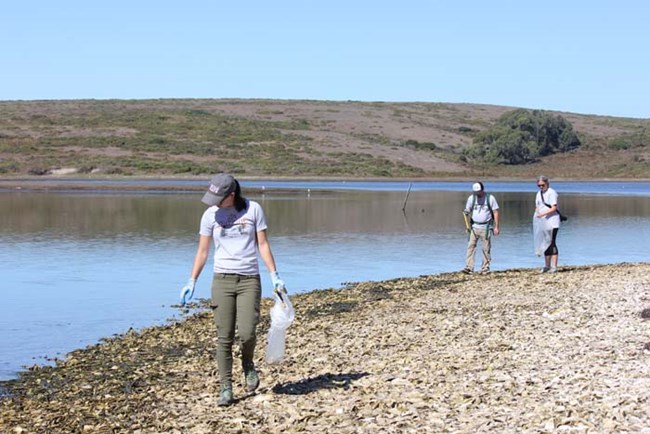 Beach Cleanup
We cleaned up litter along one of the most beautiful beaches at Point Reyes—Limantour Beach. While picking up marine debris, participants had the chance of seeing many shorebirds along the beach as they probe for food in order to refuel during their migration. Partake in what promises to be a memorable day while enjoying one of the most pristine beaches in the Bay Area.
We met at 11 am at the Limantour Beach parking lot. From there we split up into groups which walked in different directions along the beach. This was a great family event and all ages were welcome and encouraged to join. Groups started to return to the parking lot area around 2 pm, after which we held a wrap-up with the group.
Coastal Dune Restoration Project
The public was invited to spend Martin Luther King Jr. Day at the beautiful and scenic Abbotts Lagoon. Participants had lunch watching the waves lap the shore and helped the dune restoration team remove searocket, as well as New Zealand spinach, iceplant, and nightshade—invasive plants that are threatening a newly thriving patch of Tidestrom's lupine (a federally endangered species). The area in which we removed plants was originally covered in invasive European beachgrass and, after an extensive removal process, we've managed to bring the dunes back to a more natural state. However, we now have new invasive species popping up. The public was invited to help us continue the restoration!
In addition to the restoration work, Cody Ender—the park's Coastal Dune Technician—gave an introduction to the site and insight into managing the Coastal Dune Restoration Project for the park.
Last updated: February 2, 2020