Multimedia Presentations
Point Reyes National Seashore and its partners have produced a number of multimedia presentations featuring the natural and cultural resources at Point Reyes.
View videos of offshore infrastructure, shellfish, and marine debris that will be removed during the restoration of Drakes Estero.
The video Picture Yourself at Point Reyes National Seashore was created to promote National Park Week 2012 and to invite people to visit Point Reyes National Seashore. Picture yourself at your National Parks!
The Natural Laboratory is a series of pod-casts, videos, audio-slide shows, and other multimedia presentations exploring science at Bay Area National Parks. The Natural Laboratory is produced by Pacific Coast Science and Learning Center Science Communication Interns.
The Pacific Coast Science and Learning Center has also produced Documentary Videos and a series of short videos entitled "Science Behind the Scenery."
To commemorate the completion of the Giacomini Wetland Restoration Project in 2008, OpenRoad.tv and YourWetlands.org produced a video and a pod-cast, respectively. In 2016, the park produced a new video about the wetlands entitled Science at the Seashore: Giacomini Wetlands.
Wild Sound Stories are six-minute adventures in natural sounds and images that connect you to the feeling of wild Marin.
NPSWilderness has produced three videos entitled Wilderness Calling: Point Reyes, Wilderness Motion: Point Reyes, and Wilderness Visions: Point Reyes featuring images and sounds from the Phillip Burton Wilderness within Point Reyes National Seashore, in addition to two videos about NPS wilderness: America's Wilderness and Leave No Trace Outdoor Ethics which hikers, campers, and other visitors to Point Reyes may find of interest.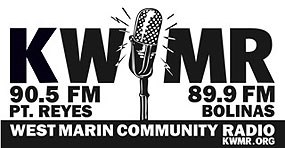 On July 24, 2013, local community radio station KWMR aired an Epicenter: West Marin Issues broadcast in which host Marc Matheson interviewed Sara Hammond and Dale Dualan, the Engineering Technicians/Sustainability Coordinators at Point Reyes National Seashore. They discussed the pioneering work taking place at the National Seashore in addressing the effects of climate change—the park's sustainability outreach and education programs, composting and other waste diversion projects, energy management and conservation, water management and conservation, and alternative transportation projects.
Listen to the podcast - 60 minutes (14,063 KB .mp3)
The Green Wave by the Seashore
While there might be some truth to the famous lyric "it's not easy being green," there are a vast amount of ways you can contribute to our conservation mission at home and in your community, many of which that are simple and easy. Winner of the first National Park Service-wide My Green Parks Video Contest, The Green Wave by the Seashore is a theatrical short film showcasing some of the many ways Point Reyes National Seashore has integrated sustainability into their park operations.
Winner of the first NPS-wide My Green Parks Video Contest, The Green Wave by the Seashore is a theatrical short film showcasing some of the many ways Point Reyes National Seashore has integrated sustainability into their park operations.

Duration:

5 minutes
Point Reyes Wilderness: A Conversation with Park Rangers
Four park rangers share their thoughts about Wilderness.

Duration:

7 minutes
Last updated: September 12, 2016