Point Reyes: Nature's Classroom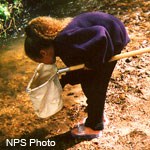 Using Park Resources
to Teach, Inspire
and Motivate Students
Welcome teachers, students, and parents! Point Reyes National Seashore is an ideal resource for in-depth learning experiences outdoors in science, social studies, language arts and math that meets National and State learning standards.
Contact the education office by e-mail.
For general park inquiries and information call: 415-464-5100.
Kule Loklo Programs for 2019–2020
Kule Loklo education programs will not be offered for the 2019–2020 school year due to deteriorating conditions at the replica village.
In 2019, the park submitted a request to fund the restoration of Kule Loklo. At this time, funding has not been approved. The park will be working with the Federated Indians of Graton Rancheria and other park partners to determine what a restored village and education programming will look like in the future.
Visitors and schools groups are still able to access and explore Kule Loklo on their own. Please use caution while visiting the village as the structures are fragile.
In addition, teachers may contact us in advance of their trip to see if we can schedule a ranger to talk to the class at the Bear Valley Visitor Center. Teachers may also request a showing of the 20-minute Kule Loklo video in the Bear Valley auditorium.
Our cooperating association, Point Reyes National Seashore Association, offers day-long and residential environmental education programs for youth, adults, and families. Learn more about these programs by visiting their School Program page.
Students and educators are welcome to participate in Kule Loklo volunteer work days on the second Saturday of most months to assist with minor repairs to Kule Loklo.
Curriculum Materials
Other Resources


Last updated: November 7, 2021