Point Reyes: Nature's Classroom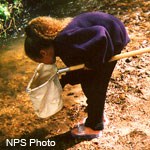 Using Park Resources
to Teach, Inspire
and Motivate Students
Welcome teachers, students and parents! Point Reyes National Seashore is an ideal resource for in-depth learning experiences outdoors in science, social studies, language arts and math that meets National and State learning standards.

Our education program offers many resources for educators to enjoy the Park with their classroom, including: ranger-led programs, ranger visits to the classroom, curriculum for teachers to utilize in the classroom or at the park, and professional development opportunities.

This page is currently under going major edits throughout May 2019. Please check back by June 2019 for significant updates.
Contact the education office by e-mail.
For general park inquiries and information call: 415-464-5100.
Curriculum Materials
Other Resources


Last updated: May 6, 2019