Volunteer: Stream Team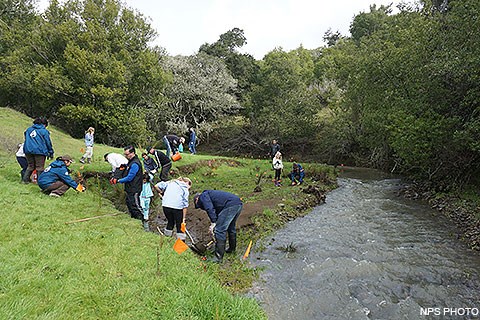 Overview
Stream Team is an opportunity to assist park staff and the Watershed Stewards Program in improving fish habitat for federally listed coho salmon and steelhead trout through streamside restoration in Point Reyes National Seashore.
The Watershed Stewards Program's (WSP) mission is to conserve, restore, and enhance anadromous watersheds for future generations by linking education with high quality, scientific practices. A program of the California Conservation Corps, WSP is one of the most productive programs for future employment in natural resources. WSP is administered by California Volunteers and sponsored by the Corporation for National and Community Service.
Duties
Plant native plants
Construct, remove and maintain fences along creek habitat
Remove non-native plants
Perform habitat monitoring
Skills, knowledge, experience
Ability to perform moderate physical labor.
Special requirements
WSP will adhere to all CDPH COVID-19 guidelines during any in-person restoration events. Please bring a mask.
Work may involve hiking over uneven terrain, bending, pulling, and lifting.
Proper field attire is required (close-toed shoes, long pants, and layers) as work may involve exposure to poison oak, ticks, temperature extremes, wind, rain, and fog.
Schedule and Time Commitment
The Stream Team is usually a drop-in program where volunteers commit to working one day at a time.
The next work day will be February 12, 2022, from 10 am to 2 pm. Volunteers should RSVP for more information to Stream Team coordinators Tara or Natale at 415-464-5206 or via email: Tara / Natale.
On the day of the event, we will meet at the Red Barn parking lot at 10 am. Follow the directions to the Bear Valley Visitor Center, but take the first left off of the Bear Valley Visitor Center Access Road onto the gravel driveway to the Red Barn parking lot. From the Red Barn parking lot, we will carpool/caravan to the day's work site. Work sites are approximately 10–15 minutes away from the Bear Valley area.
more information...
Training
Training on the safe and proper use of tools will be provided on-the-job.
Benefits to the Volunteer
Satisfaction in helping to enhance habitat for federally endangered and threatened species of coho salmon and steelhead trout
Knowledge of habitat restoration techniques
Group Type
Individuals and groups up to 20 people are welcome.
Minimum Age
All ages 6 and above are encouraged to attend, however, children under 14 will need adult supervision. Volunteers under 18 must have a signed parental consent form. Please contact us (see below) for more information.
Accommodations
Housing and RV sites are unavailable.
Application and Contact Information
For more information, please contact either Tara or Natale at 415-464-5206 or via email: Tara / Natale
Last updated: June 17, 2022