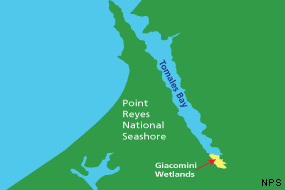 Scientists, students, volunteers develop fresh insights at the Giacomini Wetlands
The Internet is not omniscient. Natural areas harbor unrecorded answers to questions yet to be asked. For instance, the Giacomini Wetlands offer fresh understandings about threatened animals and climate change. Scientists, students and volunteers converge increasingly at this new nexus for research.
The wetlands once resonated with the sound of cattle lowing. During the early 1900s levees were built to control the waters of Tomales Bay, about a one-hour drive north of San Francisco. The resulting dry land provided range for dairy cows. But drainage curtailed the natural services that wetlands had previously provided. These lost amenities included floodwater retention, water cleansing, wildlife sustenance and recreation.
In 2000, the National Park Service acquired the Waldo Giacomini Ranch in order to restore the wetlands. Alongside partners, they built new habitats and tore down a levee. With the inflow of tidal waters the wetlands' natural services resumed. Now researchers take to the wetlands for answers to new questions.