Overview
Hello Plover lovers! This is the first update of the 2020 snowy plover breeding season (Pandemic Edition). We began breeding surveys during the first two weeks of March, but due to Shelter-In-Place (SIP) orders, snowy plover monitoring in Point Reyes National Seashore was put on hold. Park leadership approved minimal essential activities for plover monitoring during mid-April, and we began surveying beach sites only within a half mile of trailheads and beach parking lots. A few weeks later, full implementation of the monitoring program was authorized.
Since then, we have had an active breeding season so far: 21 total nests, of which three have hatched and 14 failed. Causes of nest failure include: depredation by common ravens (n = 8 or 57%), nest abandonment (n = 4) and tidal overwash (n = 1). One nest failed for unknown reasons, but it was likely taken by a predator.
Here are updates organized by beach sites:
Kehoe (K)
There have been two nests found on Kehoe Beach so far; currently there is only one that is active. One nest has hatched this past week and the three hatchlings are staying close to their nest site. Nearly all breeding activity has been observed at the north end of this site. A total of four pairs have been found here.
Abbotts Lagoon Restoration Area (RA)
No plovers have been observed within the RA this season, though a failed nest was found by biologists after a month hiatus due to SIP orders. Egg shell fragments were found at an old nest cup with what looked to be raven tracks leading up to it. No adult plovers were observed in the area. The inactivity in this site is likely due to chronic nest and chick failure at this site in the past few years, mostly due to high common raven activity.
Abbotts Lagoon to North Beach parking lot (NP)
This is one of our most active sites this year. We have observed 11 nests thus far, mostly concentrated at the southern end of the site, close to North Beach parking lot. Two nests have hatched, producing five hatchlings, three of which should be fledging in the next few days. Astonishingly, the father of two three-day old chicks moved almost 1.5 miles north of their nest site! This is almost halfway to the Abbotts Lagoon mouth. There are still three active nests here and we expect to find a couple more nests within the next week. In total, there are currently six to seven pairs of plovers at this site.
North Beach (NB)
We currently do not have any active nests or pairs on this site. Earlier in the season, we observed three pairs actively breeding about ½ mile south of North Beach parking lot, but common ravens caused all four nests to fail. These pairs began to move north of North Beach parking lot and began nesting with another concentration of nesting plovers there.
Limantour (L)
Breeding activity on this site has declined this year: only two pairs are currently nesting on Limantour. We are unsure why we have seen a decline in activity, though we noticed several banded plovers were missing that have frequently bred here in the past few years.
South Beach (SB)
We located our first nest on this site since the 1980s! An unbanded pair of plovers nested ¼ mile south of South Beach parking lot. Unfortunately, it was lost to ravens soon after discovery and the plover pair likely moved north to NP site. During the 2019 breeding season, we discovered our first sign of breeding activity on SB and successful fledging of two chicks! We were unable to find the nest location where these chicks originated.
If you have any questions, please contact Matt Lau, the park's Snowy Plover Ecologist, via email.
Current Stats
21 nests so far this season

5 active nest
3 hatched
14 failed nests

7 chicks on the beach
0 chicks fledged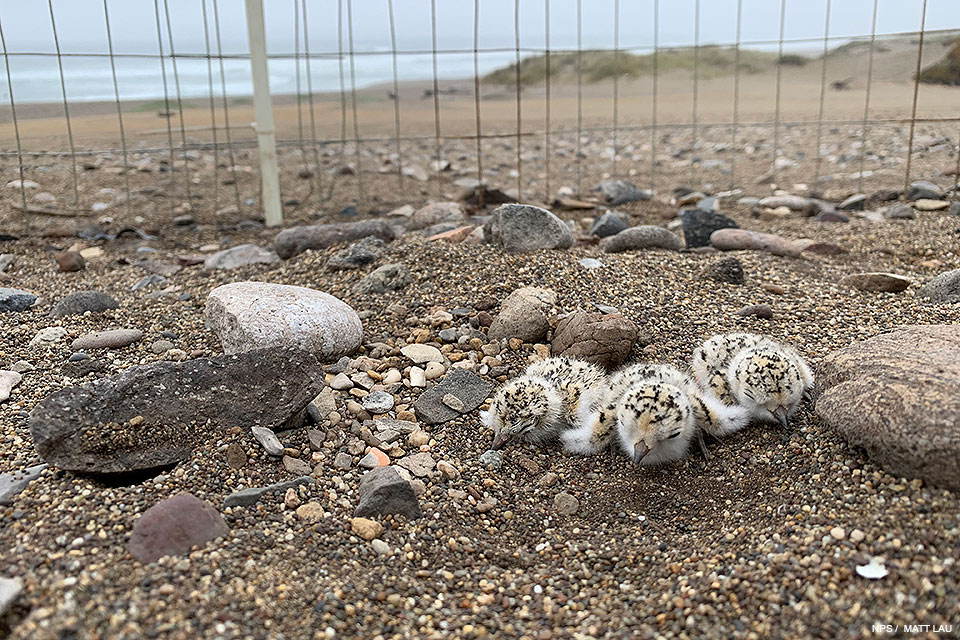 Three of the first snowy plover chicks of the 2020 breeding season.
---
The National Park Service shall not be held liable for improper or incorrect use of the data described and/or contained herein. These data and related graphics (if available) are not legal documents and are not intended to be used as such. The information contained in these data is dynamic and may change over time. The National Park Service gives no warranty, expressed or implied, as to the accuracy, reliability, or completeness of these data. For more information: https://www.nps.gov/disclaimer.htm