Overview
Winter is here! Well the snowy plovers and other shorebirds seem to think so. We have observed snowy plovers congregating into their "winter" or nonbreeding flocks in the past two weeks. These flocks consist of plovers that are finished with breeding for the season from within Point Reyes and from elsewhere. These flocks persist until next March, when plovers get the feeling that it's time to breed again.
In our last update, we estimated that the park's plover breeding population increased significantly (to 39 adults!). Nest success is around average, and we have been working hard to put exclosures on as many nests as possible to protect them from common ravens and other predators. However, chick survival is significantly low this year. We have unusually lost three broods that were within a week of fledging; generally, as chicks become older, survival increases significantly day by day. Unfortunately, this is the stage of breeding that biologists have the least control over—once the chicks are hatched, they are mobile and it's largely up to the plover dad to take care of them and keep them away from danger. Currently we can only speculate as to why we are losing these broods.
On the brighter side, we still have a few nests to hatch in the coming weeks and we recently had several nests hatch. We are crossing our fingers that several of these broods will survive until they fledge. In other good news, we also have been notified that a plover that hatched on Limantour Beach in 2018 has been breeding on Salmon Creek State Beach in Sonoma County, successfully hatching 2 nests and raising chicks!
Here are updates organized by beach sites:
Kehoe (K)
There have been six nests found on Kehoe Beach; there is currently one active nest. Two have hatched in the past two weeks and recently we were able to confirm both broods are still active! All breeding activity this season has been at the north end of the beach and within a fenced area.
Abbotts Lagoon Restoration Area (RA)
We still have no observations of any plovers in the RA this season, despite the availability of good breeding habitat. In previous seasons, plovers have nested here in large numbers, particularly in 2015. However, predation pressure from common ravens has likely influenced plovers to nest elsewhere.
Abbotts Lagoon to North Beach parking lot (NP)
This remains the most active breeding site this season. We have found 20 nests within 1.5 miles of North Beach parking lot, many of which have benefited from the weekend beach closures, reducing disturbance from visitors and nest predators. There are currently two active nests and six to eight hatchlings running around on the beach.
North Beach (NB)
We currently do not have any active nests or pairs on this site. We haven't observed any breeding activity here in the past two months.
Limantour (L)
Breeding activity on this site has declined this year. There has only been a single pair nesting, though they were able to hatch one nest a few weeks ago. Unfortunately, we confirmed that the male lost his single chick last week and has joined the winter flock forming on the spit.
South Beach (SB)
Two nests on this site have hatched over the weekend! There are currently six young chicks at this site, which is closed off to the public due to road construction activity nearby.
If you have any questions, please contact Matt Lau, the park's Snowy Plover Ecologist, via email.
Current Stats
38 nests so far this season

3 active nest
14 hatched
21 failed nests

13–16 chicks on the beach
2 chicks fledged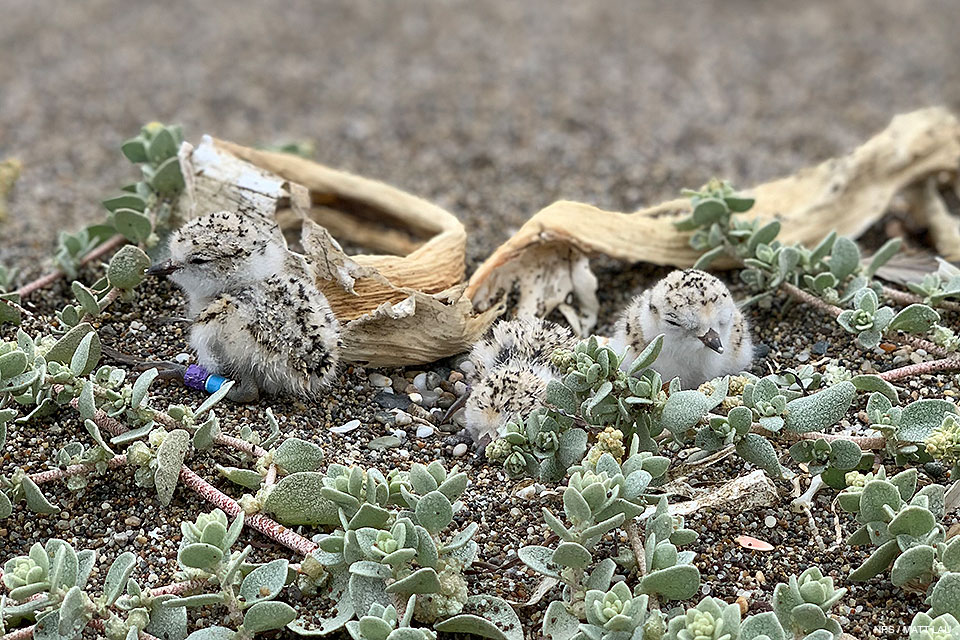 South Beach hatchlings still sitting in the nest cup, within a nest exclosure. The youngest (last to hatch) lies down in the middle, with the oldest sibling looking more alert on the left.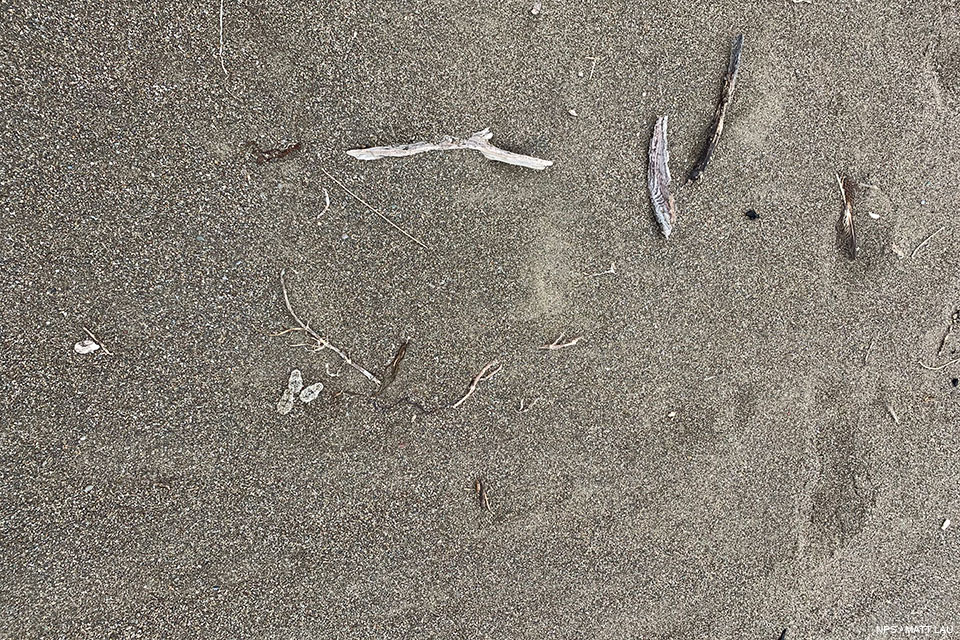 Newborn hatchlings, well camouflaged amongst the sand, sit quietly and unmoving to avoid being seen by biologists and other predators. This shows how vulnerable the chicks can be when adults are disturbed and pushed away from their chicks.
---
The National Park Service shall not be held liable for improper or incorrect use of the data described and/or contained herein. These data and related graphics (if available) are not legal documents and are not intended to be used as such. The information contained in these data is dynamic and may change over time. The National Park Service gives no warranty, expressed or implied, as to the accuracy, reliability, or completeness of these data. For more information: https://www.nps.gov/disclaimer.htm