Overview
The breeding season is nearing its end and winter flocks are beginning to increase in size. As a reminder, these "winter" flocks begin forming by mid-July. At that time, the flocks consist of just a few to several plovers that could be local Point Reyes breeders that are done reproducing for the season or plovers that have immigrated from elsewhere along the coast (who have decided they too are done with breeding for the season). In mid-August, these flocks can number up to 30–40 plovers; for example, we recently counted 40 snowy plovers in a flock just north of North Beach parking lot. The number of wintering plovers steadily increases throughout the fall going into the winter season, usually peaking in December or January.
During these last few weeks of the breeding season, snowy plovers have been experiencing higher reproductive success compared to most of the past four months. More specifically, chick survival has been higher and the number of common ravens observed on surveys has dropped. We can only hypothesize, but we are not exactly sure why the number of common ravens seen using beach habitats decrease in July and August; however, it seems to certainly help the snowy plovers.
Here are updates organized by beach sites:
Kehoe (K)
Breeding on this site seems to have wrapped up, with the last broods fledging three chicks in the past two weeks. In total, there have been six nests on this site this season, all near the north end of Kehoe Beach.
Abbotts Lagoon Restoration Area (RA)
We have not detected any breeding activity in this large site just south of Abbotts Lagoon. Biologists found evidence of nesting here in April, when we returned from a month-long hiatus due to the initial shelter-in-place orders: a nest cup with a depredated egg was found at the south end of the site, indicating that there had been nesting activity. No other signs of breeding has been observed since.
Abbotts Lagoon to North Beach parking lot (NP)
We have one remaining active nest on this site, close to North Beach parking lot. Two broods are actively moving about on the beach. Twenty-two total nests have been found on this stretch, mostly within 1.5 miles of North Beach parking lot, making this our most active site of the year. Weekend beach closures remain in place to protect active nests and broods. There are several winter flocks of varying sizes on this stretch, including several plovers that have hatched in Point Reyes in the past but breed elsewhere along the coast.
North Beach (NB)
This site was active during the first couple months of the breeding season, but dwindled after all four known nests were depredated by common ravens. We believe all these breeding pairs decided to move north of North Beach parking lot and into the NP site to nest during the latter half of the season. We have not yet observed a winter flock on this site.
Limantour (L)
We observed only three nests on this site this season, all from the same pair (both of which hatched in Point Reyes!). This site traditionally hosts the largest winter flock in the park, and many plovers have begun coalescing here again. During the peak of plover winter season in December and January, there can be over 100 snowy plovers!
South Beach (SB)
No active nests remain on this site, though there are still two active broods, both of which will be fledging within the week, which would increase our total to nine total fledged chicks for the season. No winter flock has been observed here.
If you have any questions, please contact Matt Lau, the park's Snowy Plover Ecologist, via email.
Current Stats
39 nests so far this season

1 active nest
16 hatched
22 failed nests

9 chicks on the beach
5 chicks fledged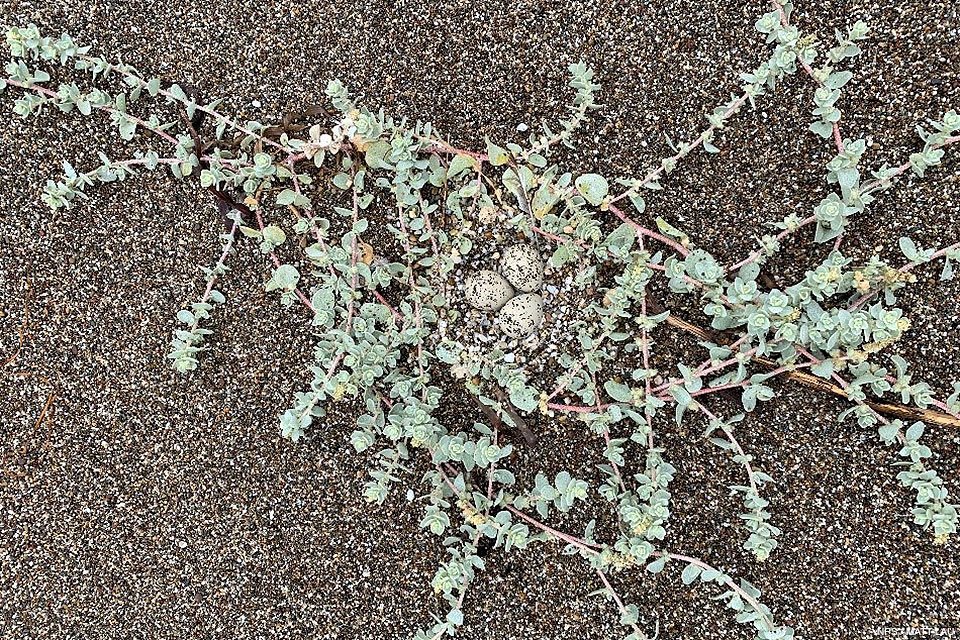 One of the last nests of the season on North Beach, nestled amongst beach saltbrush (Atriplex leucophylla).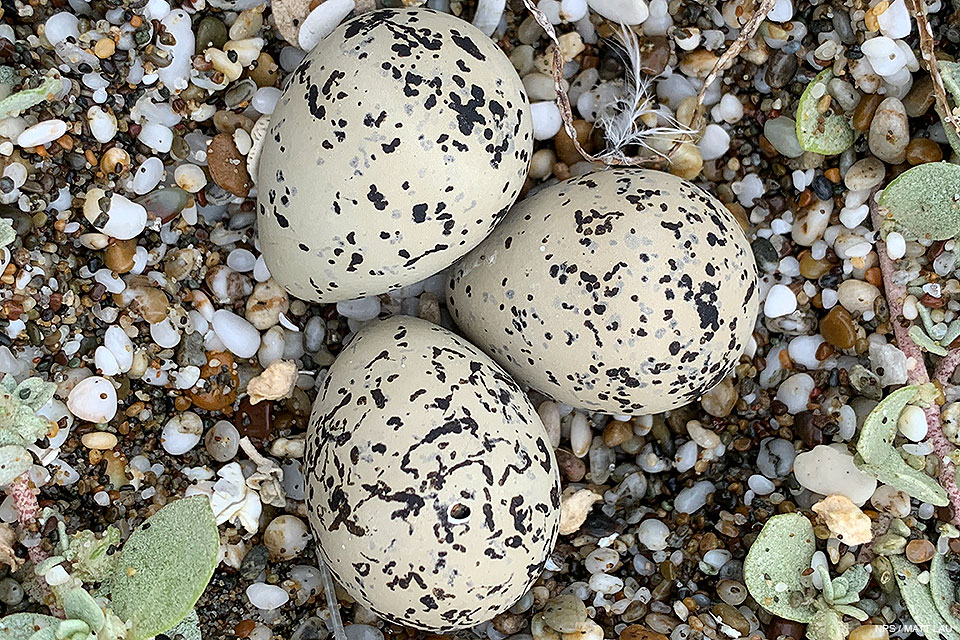 Close up of the nest shown above. These eggs were checked for signs of hatching and sure enough, all eggs were cracked and chicks were vocalizing inside the eggs. The lower egg is pipped, meaning the chick has begun breaking out. Can you see the hole?
---
The National Park Service shall not be held liable for improper or incorrect use of the data described and/or contained herein. These data and related graphics (if available) are not legal documents and are not intended to be used as such. The information contained in these data is dynamic and may change over time. The National Park Service gives no warranty, expressed or implied, as to the accuracy, reliability, or completeness of these data. For more information: https://www.nps.gov/disclaimer.htm