Potomac Gorge Field Guide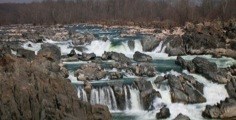 Flora
Fauna
Hydrology
Geology
Natural Communities
Potomac Gorge and Great Falls
It's tempting to think of wilderness only as remote places, far from where people live and work. The Potomac Gorge defies that notion. It is, by any measure, a special place.
More than 240 rare species and natural communities have been identified here. Of these, 134 still remain; sadly the other 113 no longer exist in the Gorge
The Gorge contains rare groundwater invertebrates found almost nowhere else on Earth, and supports the highest concentration of rare plants in Maryland
It contains the largest intact block of forest in Maryland's Piedmont and one of the most significant hardwood forests in all of Virginia
On its passage through the Gorge to tidal water, the Potomac has one of the steepest and longest fall zones of any American river draining to the Atlantic
The geology of the Gorge and the Great Falls of the Potomac are internationally known
An incredible diversity of migratory birds spend part of each year in the Gorge
The Potomac Gorge is affirmation that wilderness has more to do with healthy, functioning natural systems than location. More than 2 million people live in the jurisdictions which contain the Gorge--Fairfax County, VA; Montgomery County, MD; and the District of Columbia. So, the Gorge's special values come with special challenges and opportunities. As America's metropolitan areas expand further outward, we are challenged to do more than preserve some open space for recreation. The bigger challenge is to preserve the natural systems that support life. If we can successfully maintain and restore the Potomac Gorge's natural systems, we will know much more about how human and natural communities can share the same neighborhoods.
Last updated: February 24, 2022