Potomac Gorge Flora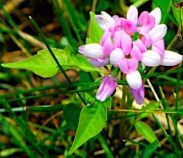 As wildflower watchers know, some of spring's most favored flowers appear for only a short time. Because they live in the deep shade of the forest floor, these plants and shrubs must capture all their sunlight in those several weeks after the spring thaw and before new leaves conceal the sunshine. Flowering plants that take advantage of the season's first warm sunshine are called spring ephemerals. Examples are trillium and Virginia bluebells. In only eight weeks they appear, blossom, and end their above-ground growth for the season.

Trillium is a member of the lily family whose spectacular flowers carpet the forest floor. It is one of the most delicate flowers in the Gorge. For the first six years or more of above-ground growth, the plant produces only one-leaf or three-leaf forms. When it finally flowers, the plant displays a single blossom for about two weeks. Trillium flourish in the beech-maple forests of the Potomac Gorge, but their habitat is fragile. A minor disturbance can kill an entire colony.

Unfortunately, when the plants are not in their flowering state, visitors who might delight in seeing the flowers might not notice trillium or other spring ephemerals. In the Gorge, unwitting hikers trounce them. In other recreation areas, campers set up their tents on them, which compacts the soil and disturbs the plants' root systems.

By learning about the natural systems in the Gorge, you can enjoy each season's offerings, from the colorful wildflowers of spring to the turkeys foraging for beechnuts in autumn. By learning what plants look like when they are not flowering, you can also help preserve and protect them. But the absolute best way to protect the wildflowers of the Potomac Gorge is to stay on the designated trails
Last updated: April 10, 2015