Maps
Ordering Maps
To order maps and brochures, please go to the Trail Brochures webpage.

Available Maps
Pony Express National Historic Trail Topographical Map


A color, topographical map of the entire Pony Express NHT is available as an Acrobat PDF document (1.01mb) for

download

. Because the nearly 1900 mile long trail covers eight states, this map measures approximately 50" x 11".
GIS Interactive Map
The National Park Service Geographic Resources Program hosts an interactive trails map viewer. Choose the Pony Express National Historic Trail and then zoom in to find the details you need for trip planning.
Tip: There are menu options at the top right and top left of the map viewer. The top right menu allows you to look at the trail overlaid on street, topographic, or imagery maps. The top left menu lists functions you can give to the map - measure distance, make a printable map, and more.
Auto Tour Route Driving Directions and Maps
Driving directions

for following the Pony Express NHT by automobile are available using the state links below. These simple maps include driving directions that approximate the historic Pony Express route between St. Joseph, Missouri & Sacramento, California.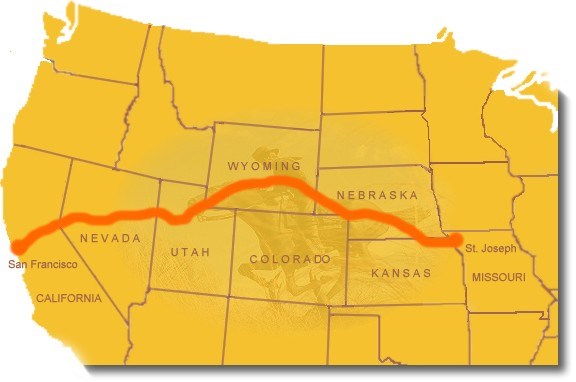 Last updated: February 26, 2019