The First Ride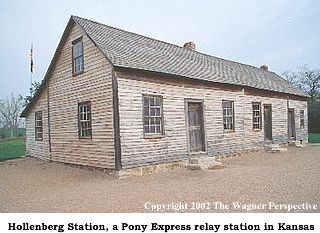 "...citizens paraded the streets with bands of music, fireworks were set off....the best feeling was manifested by everybody." - New York times, April 14, 1860 on the success of the first Pony Express delivery.

With only two months to make the Pony Express a reality, the team of William H. Russell, Alexander Majors and William B. Waddell had their hands full in January 1860. Over 100 stations, 400-500 horses and enough riders were needed - at an estimated cost of $70,000.

But on April 3, 1860, the first official delivery began at the eastern terminus of the Pony Express in St. Joseph, Missouri. Amid great fanfare and with many dignitaries present, a mail pouch containing 49 letters, five telegrams and miscellaneous papers was handed to a rider. At 7:15 p.m., a cannon was fired and the rider bolted off to a waiting ferry boat.

The Pony Express was set up to provide a fresh horse every 10-15 miles and a fresh rider every 75-100 miles. 75 horses were needed total to make a one-way trip. Average speed was 10 miles per hour.

On April 9 at 6:45 p.m., the first rider from the east reached Salt Lake City, Utah. Then, on April 12, the mail pouch reached Carson City, Nevada at 2:30 p.m.

The riders raced over the Sierra Nevada Mountains, through Placerville, California and on to Sacramento. Around midnight on April 14, 1860, the first mail pouch was delivered via the Pony Express to San Francisco.

Despite the success and approval of the public, the Pony Express was by no means a trouble-free operation after the first delivery. Costs and difficulties of maintaining the extensive network of stations, people and horses were numerous. Yet the Pony Express, with the exception of delays caused by the Pyramid Lake War, stayed in operation until the telegraph's arrival in 1861.
Last updated: January 30, 2021