Place
Tennessee: The Lorraine Motel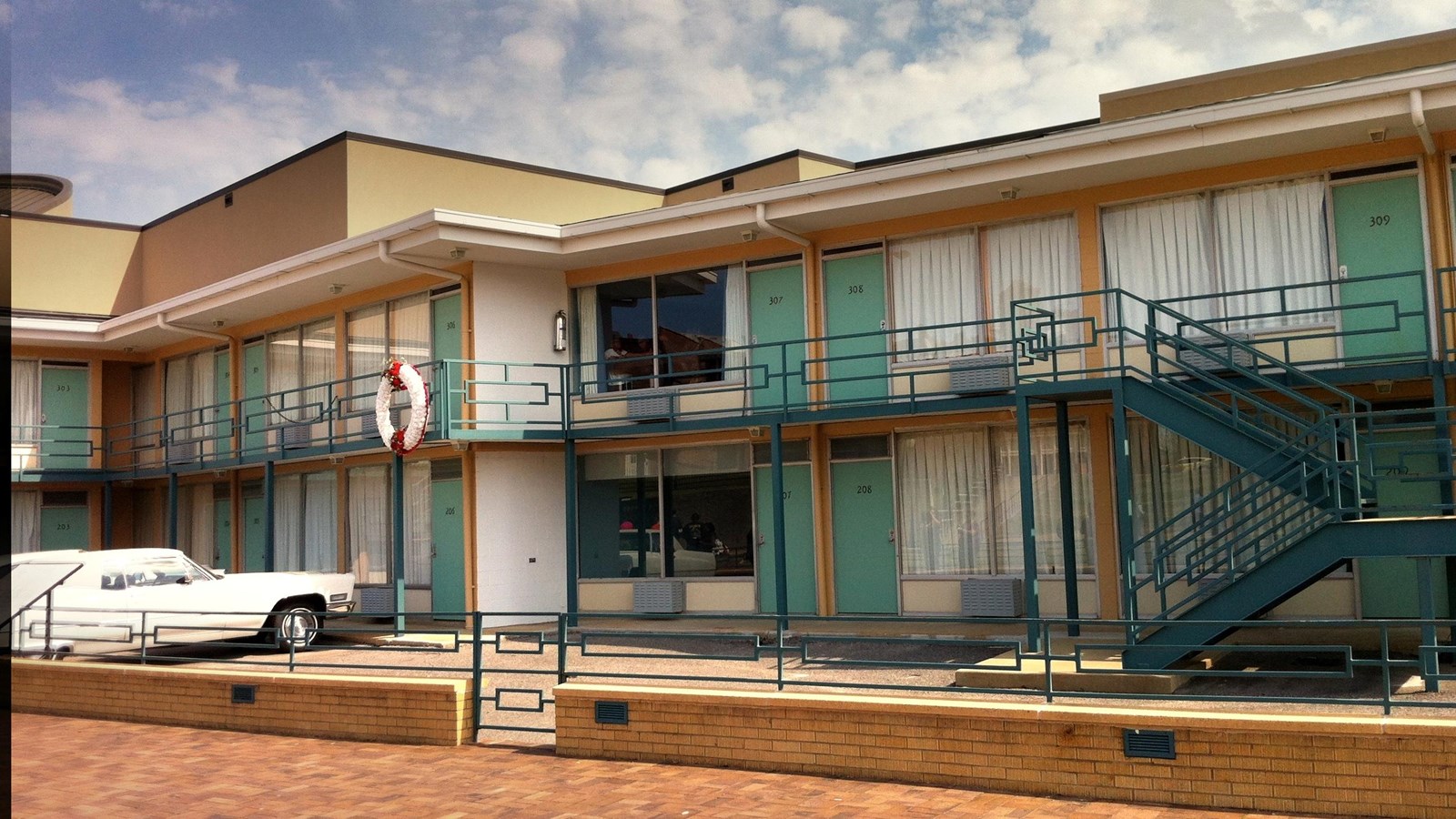 Location:
450 Mulberry St. Memphis, TN 38103
Significance:
Site of Rev. Dr. Martin Luther King Jr.'s 1968 assassination
Designation:
African American Civil Rights Network





On April 4, 1968, the Rev. Dr. Martin Luther King, Jr., was assassinated here at the Lorraine Motel, just a day after delivering his prophetic "I've Been to the Mountaintop" speech at the Mason Temple Church of God in Christ. Built in 1925, the Lorraine Hotel was a typical Southern hotel accessible only to whites in its early history; it was renamed the Lorraine Motel after the second floor was added. However, by the end of World War II, the Lorraine had become one of the few black establishments, and one of the only hotels providing accomodations to African Americans. Early guests to the Lorraine included Cab Colloway, Count Basie, and other prominent jazz musicians, in addition to later celebrities such as Roy Campanella, Nat King Cole, and Aretha Franklin. Partly because of its historical importance to the black community of Memphis, Martin Luther King chose to stay at the Lorraine during the 1968 Memphis sanitation workers strike. 
King, Ralph Abernathy, Andrew Young and other black leaders came to support 1,300 striking sanitation workers. Their grievances included unfair working conditions (on rainy days, black workers had to return home without pay while paid white supervisors remained on the job, and black workers were given only one uniform and no place in which to change clothes), and poor pay (the highest-paid black worker could not hope to earn more than $70 a week).

Following a bloody confrontation between marching strikers and police, a court injunction had been issued banning further protests. King hoped their planned march would overturn the court injunction, but such plans were cut short on April 4, 1968 when an assassin shot and killed King on the balcony of King's room.

In 1991, the Lorraine Motel was converted into the National Civil Rights Museum.

The Lorraine Motel was chosen for inclusion in the African American Civil Rights Network in March 2018. 

The African American Civil Rights Network recognizes the civil rights movement in the United States and the sacrifices made by those who fought against discrimination and segregation. Created by the African American Civil Rights Act of 2017, and coordinated by the National Park Service, the Network tells the stories of the people, places, and events of the U.S. civil rights movement from through a collection of public and private elements.
Last updated: June 18, 2020