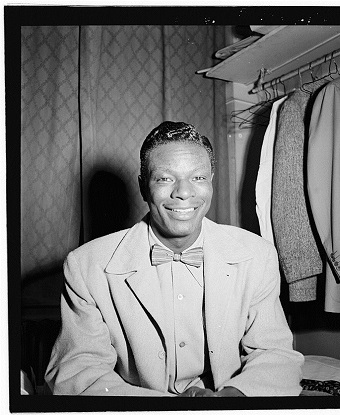 Significance:
the first African-American performer to host a variety TV series
Place of Birth:
Montgomery, Alabama
Date of Birth:
March 17, 1919
Place of Death:
Santa Monica, California
Date of Death:
February 15, 1965
Place of Burial:
Glendale, California
Cemetery Name:
Forest Lawn Memorial Park
Nathaniel A. Cole, known professionally as Nat King Cole, was an American jazz pianist and vocalist. He became the first African American performer to host a variety TV. series in 1956. For his contributions as a musician and vocalist, Nat King Cole is an American Hero.
Cole was born on March 17, 1919 in Montgomery, Alabama. Around the age of four, Cole began learning to play the piano from his mother, who was a church choir director. His father was a Baptist pastor. By his early teens, Cole received formal classical piano training. He eventually abandoned classical music for jazz. Earl Hines, a leader of modern jazz, was one of his biggest inspirations. At 15, Cole decided to drop out of school to become a jazz pianist full time. After joining forces with his brother Eddies, Cole produced his first professional recording in 1936. He later joined a national tour for the musical revue Shuffle Along.
That same year, Cole married Nadine Robinson, who he later divorced in 1948. Soon after he met his second wife, singer Maria Hawkins Ellington the couple had five children, three biological children: Natalie, Casey, and Timolin, and two adopted children, Carol and Nat Kelly.
In 1937, Cole put together the King Cole Trio, who toured extensively and landed on the charts in 1943 with "That Ain't Right". Another song penned by Cole, "Straighten Up and Fly Right," was inspired by one of his father's sermons and began another hit for the group in 1944. The King Cole Trio continued rising to the top with hits such as the "Christmas Song" and "(I love You) For Sentimental Reasons." 
By the 50s, Cole emerged as a solo performer. He had several hits, including "Nature Boy," "Mona Lisa," "Too Young," and "Unforgettable." He worked with some of the country's most popular talents, including Louis Armstrong, Ella Fitzgerald, and Nelson Riddle. Cole also became good friends with Frank Sinatra.As an African American performer, he struggled to find his place in the Civil Rights Movement. He encountered racism firsthand, especially while touring in the South. Cole was attacked by white supremacists during a integrated performance in Alabama. African Americans, on the other hand, rebuked him for his unsupportive comments about racial integration he made after the show. Cole claimed that he was an entertainer, not an activist.
Despite his controversial comments. Nat King Cole made television history in 1956. He became the first African American performer to host a variety TV series, The Nat King Cole Show. The show featured many contemporary performers, including Count Basie, Peggy Lee, Sammy Davis Jr., and Tony Bennett. The show went off air in 1957, which Cole blamed on the lack of a national sponsor. No company seemed willing to back a program that featured African American performers. Despite not having his own show, Cole continued his presence on TV. He appeared on The Ed Sullivan Show and The Garry Moore Show. Cole also appeared on the big screen. He started off in small roles in the 1940s by playing some version of himself. He appeared in Instanbul (1957) and China Gate (1957). His only major starring role was in St. Louis Blues which aired in 1958. Cole starred alongside Eartha Kitt and Cab Calloway. His final film was Cat Ballou, which he starred in with Jane Fonda and Lee Marvin in 1965.
In 1964, Cole discovered he had lung cancer. He passed away just months later on February 15, 1965. He was 45 years old. His music continues to live on. His rendition of The Christmas Song has become a holiday classic and many of his other songs have been frequently selected for film and television soundtracks. Of the five children, only Natalie pursued a career in music. In 1991, she helped give her father a posthumous hit when she combined their vocals together in a duet for "Unforgettable."
Nat King Cole is associated with the Historic Resources Associated with African Americans in L.A.Multi-Property Submission (MPS). It was approved and listed on the National Register of Historic Places on March 17, 2009.
Last updated: February 12, 2019