Place
Portage Lakefront and Riverwalk Trail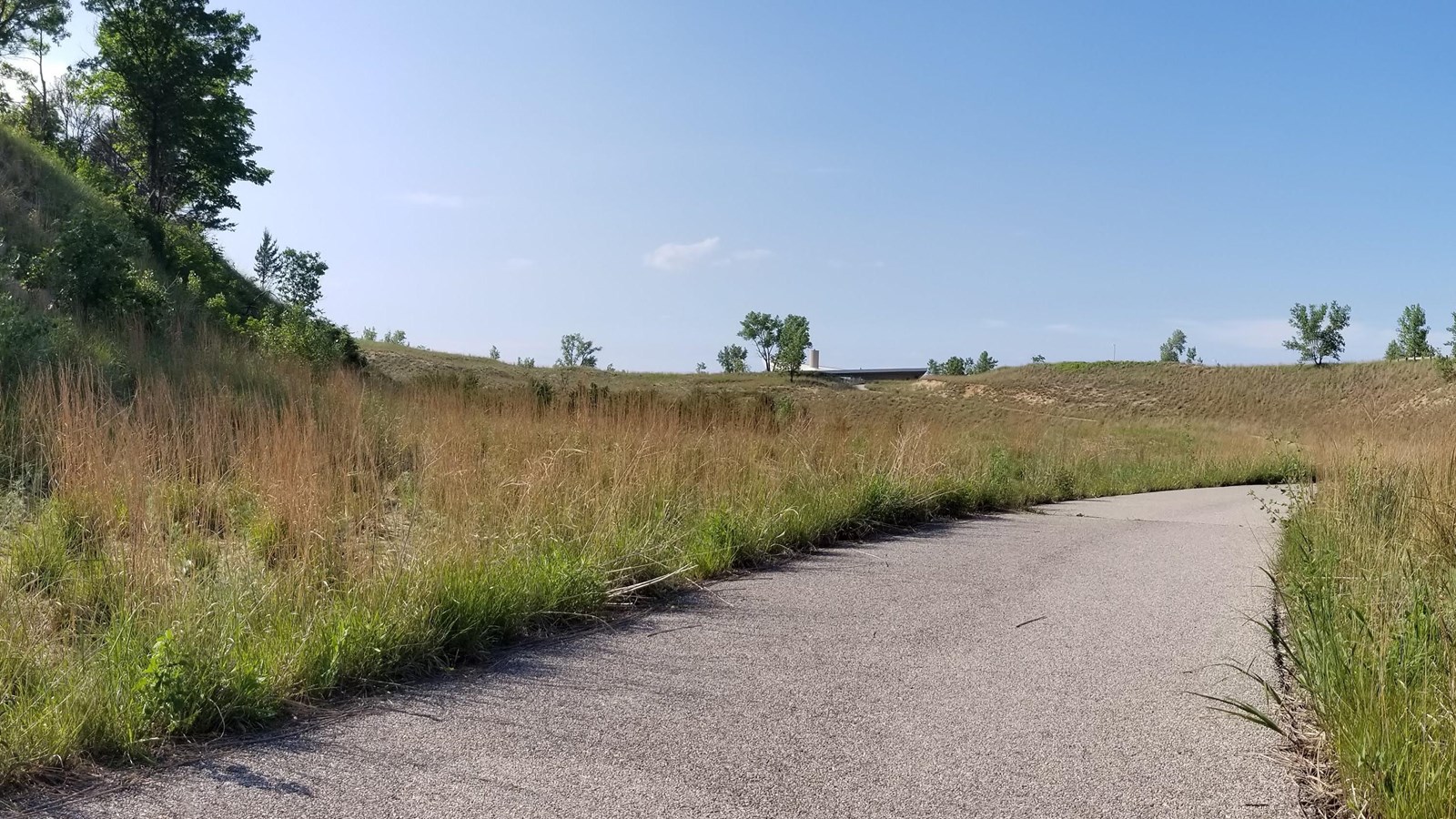 MANAGED BY:
Indiana Dunes National Park and City of Portage
Accessible Rooms, Automated Entrance, Baby Changing Station, Beach/Water Access, Benches/Seating, Bicycle - Rack, Cellular Signal, Dock/Pier, Electric Car Charging Station, Electrical Outlet/Cell Phone Charging, Fire Extinguisher, Food/Drink - Bar/Alcohol For Sale, Food/Drink - Snacks, Historical/Interpretive Information/Exhibits, Information, Information Kiosk/Bulletin Board, Parking - Auto, Picnic Shelter/Pavilion, Picnic Table, Restroom, Restroom - Accessible, Scenic View/Photo Spot, Toilet - Flush, Trailhead, Trash/Litter Receptacles, Water - Bottle-Filling Station, Water - Drinking/Potable, Wheelchair Accessible
Lakefront and Riverwalk Trail
0.9 miles, 39 feet of elevation gain, 1% average grade, 6% maximum grade
Hike time: 45 minutes
This popular location is a great place to view the ever-changing seasons along Lake Michigan and watch dramatic weather and clouds build over the lake. It's an easy location to watch for migrating birds in the spring and summer, and observe shelf ice that forms along the beach edge in the winter. Visitors can enjoy easy access to the lakefront and trails that highlight dune succession. A 3,500 square foot public pavilion includes restrooms, a seasonal snack bar and a glass walled classroom/meeting space.
This featured hike is a loop style trail and is mostly wheelchair accessible. Starting at the pavilion, pick up the trail heading south on the east side of the road off the traffic circle. The trail will wind through restored dune habitat. After approximately a half a mile, the trail crosses the road, goes down a set of stairs, and heads back north on a boardwalk along the Burns Waterway to the pavilion.
History and Background
Portage Lakefront and Riverwalk opened in October 2008. The redevelopment of the site, formerly used by a steel corporation as settling ponds for industrial byproduct and a sewage treatment facility, is a successful model of brownfield reclamation. The land, buildings, and facilities at the site are owned by the National Park Service and operated in partnership with the City of Portage. To learn more about public programs offered there, contact the Portage Parks and Recreation Department at (219) 762-1675, extension 301.
Trail Features: Lake Michigan, Views, Birding, Swimming, Fishing
---
Getting There
Trailhead Parking Lot
100 Riverwalk Road, Portage, IN 46368
 Directions starting from the intersection of U.S. Highway 20 and State Route 249: Follow State Road 249 north and take the bridge over U.S. Highway 12 towards the U.S. Steel and Precoat Metals businesses. Turn left at the stop sign and cross over Burns Waterway. Once over the waterway, turn right immediately and head north, towards the lake, passing the entrance sign. Park only in public designated parking spots to help protect the fragile dune ecosystem along the roadside.
Trailhead GPS Coordinates
41.630994, -87.178383 (Decimal Degrees)
---
Need to Know
Hours & Information
Hours – Open daily from 6:00 am to 11:00 pm. Open daily at all times for those actively involved in fishing.
Hike Length – 0.9 miles.
Hike Time – 45 minutes.
Difficulty – Easy with no change in elevation.
Trail Surface – Paved with some sections of boardwalk and one set of stairs. Be aware, trail conditions can change quickly due to high lake levels and storms.
Facilities – Year-round restrooms and potable water when the pavilion is open.
Pets – Permitted on a leash (6' or shorter). Pets are prohibited inside the pavilion.
Prohibited – Littering, hunting, and removing plants.
Prohibited – Bicycles and motorized vehicles.
3 paved parking lots.
For information on the Portage Lakefront and Riverwalk Beach.
Safety
Please stay on the trail and respect closed area signs. Going off trail damages fragile habitat.
Ticks are present year-round. Take precautionary measures to prevent bites.
Poison ivy can be present on the edges of the trail.
Be prepared for changing weather conditions.
In case of an emergency or to report a crime, call 1-800-PARK-TIP.
Accessibility
The pavilion is wheelchair accessible. The trail is wheelchair accessible with the exception of stairs at the southern end of the riverwalk boardwalk.
---
Trail Map
View a detailed map of the Portage Lakefront and Riverwalk Trail.

All hiking trail maps of the Indiana Dunes National Park are available online on our website or in paper at the trailhead kiosk or the Indiana Dunes Visitor Center.
---
Nearby Hikes
Tolleston Dunes
West Beach
Paul H. Douglas (Miller Woods)
Last updated: June 8, 2022