Place
Alamere Falls at Point Reyes National Seashore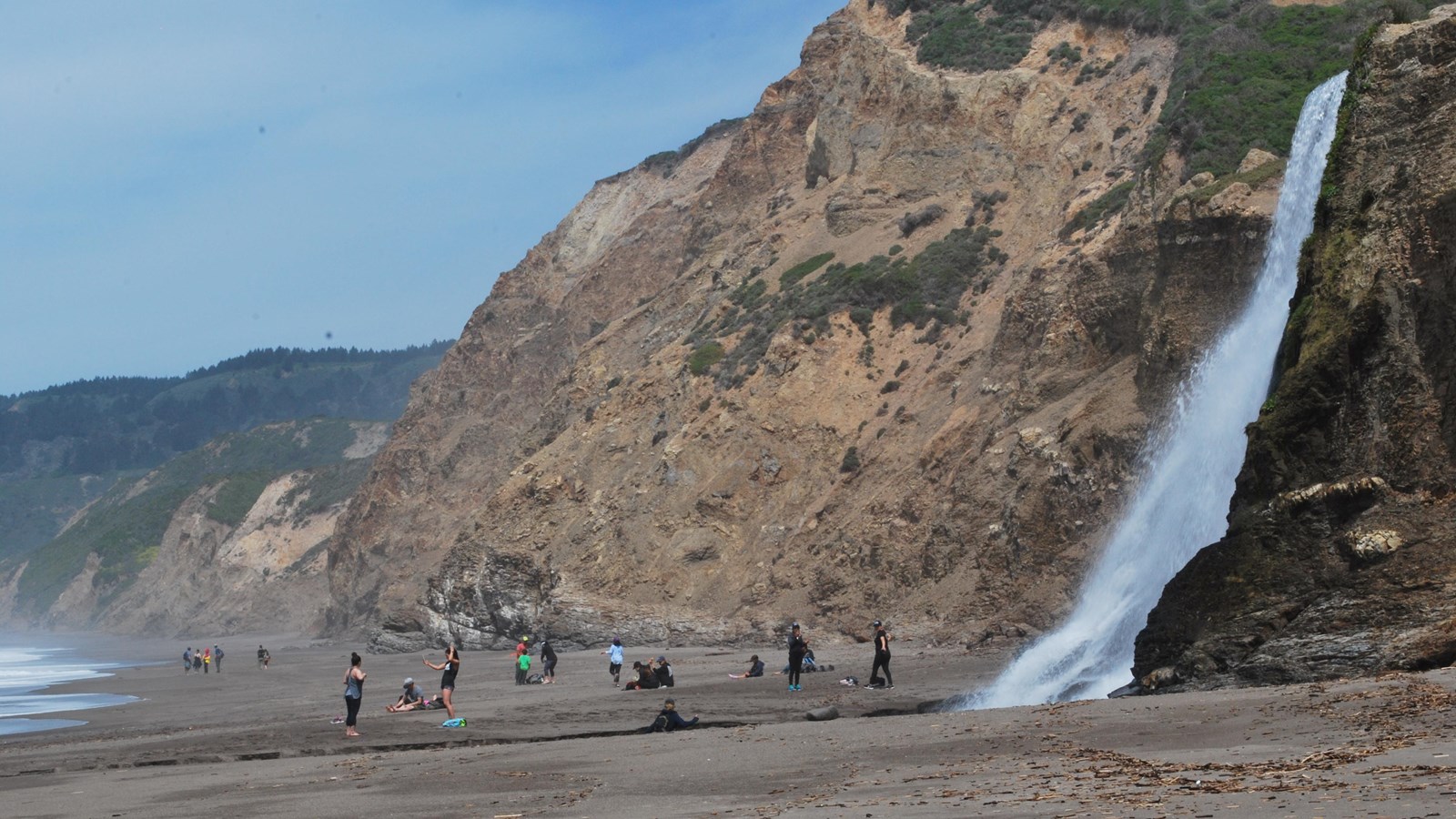 Location:
Phillip Burton Wilderness in Point Reyes National Seashore. Geo-coordinates: 37.9537, -122.7835.
Alamere Falls is a beautiful waterfall deep within the Phillip Burton Wilderness. The falls are a dramatic sight as water cascades over a ~40-foot-tall (~12 m) cliff onto the south end of Wildcat Beach. While no easy trek—a 13-mile (20 km) minimum round-trip hike is required—this spectacular spot is a popular—and a sometimes overcrowded—visitor draw. Take note: it is also the site of multiple search-and-rescue operations each year. Beware of getting too close to cliff edges and be mindful of coastal erosion!
There is NO park-sanctioned "Alamere Falls Trail"
Please take note! Many social media posts, websites, and older (and some newer) guide books reference an "Alamere Falls Trail" (also sometimes referred to as a "shortcut to the falls"). The "Alamere Falls Trail" is NOT a maintained trail, and poses many hazards to off-trail hikers—crumbling and eroding cliffs, massive poison oak, ticks, and no cell phone service. Visitors who use this unmaintained trail may endanger themselves and rescuers, and inadvertently cause resource damage, such as trampling plants, which may lead to the death of the trampled plants. On an almost weekly basis, visitors get hurt scrambling down the heavily rutted route leading to the top of the falls or sliding down the crumbly cliff-face to get to the beach, sometimes requiring search and rescue teams to be mobilized. The National Park Service strongly advises visitors against using this unmaintained route. Please use the recommended routes described on Point Reyes National Seashore's Alamere Falls page to visit the falls. Stay on designated trails.
Help Protect Wilderness Values
Wilderness areas are places of refuge—protected and managed to allow for relaxation, self-reliance, opportunities for solitude, and natural quiet. To maintain this extraordinary wilderness character, this area is supposed to be free of mechanized equipment, amplified music, and the imprint of human development is limited. Visit the Help Protect Wilderness Values on the park's Alamere Falls page for more information.
Additional Information and Tips
The park's Alamere Falls page has more information to help plan a safe visit to Alamere Falls, including information about:
Glass: Glass containers are prohibited on all Point Reyes beaches.
Take only pictures; leave only footprints: Almost everything one finds at Point Reyes' beaches is protected by law, including shells, rocks, fossils, flowers, and artifacts.
Wildlife: Do not chase or feed the gulls (or any other birds) and keep your distance from seals.
Drones: Launching, landing, or operating a drone from or on lands and waters within the boundaries of Point Reyes National Seashore is prohibited.
Metal-detectors: Metal-detectors are prohibited throughout the National Seashore.
Pets: Pets are prohibited at Alamere Falls and along all trails leading to the falls. Visit our Pets page for more information on where pets are permitted at Point Reyes National Seashore.
Camping: Camping is prohibited on Wildcat Beach or at Alamere Falls. Visit our Backcountry Camping page for more information on camping at Point Reyes.
Wood fires: A permit is required to have a wood fire at any beach in Point Reyes National Seashore. Visit our Beach Fires page for more information.
Fishing: Fishing is permitted from Wildcat Beach. Visit our Fishing page for more information and specific regulations.
Last updated: July 19, 2022